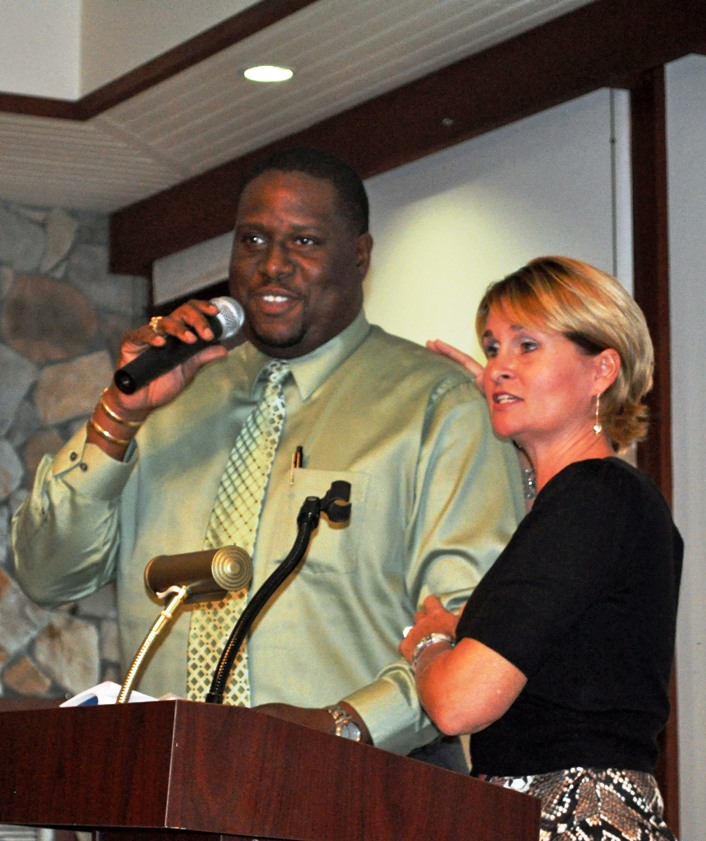 Sen. Judi Buckley said her speech Tuesday evening to the St. Croix Hotel and Tourism Association at The Buccaneer Hotel was her very first public speaking engagement as a member of the territory's 30th Legislature.
Her message was simple. She said she was there to tell the truth and offer people hope.
Buckley got things started, noting that while not a fan of the ABC hit reality series "The Bachelor," she did enjoy how the show portrayed St. Croix on Monday night.
"I was so proud," Buckley said. "I just kept thinking, if I had never been here before, I would want to come. It was absolutely beautiful. It reminded me that we have so much potential."
Stating her independent status and the fact that she was not a member of the majority party, Buckley said she was "cautiously optimistic" about the chances the 30th Legislature had of being productive.
"We have a real spirit of cooperation," Buckley said. "I will tell you honestly and sincerely that everyone that was elected recognizes that we don't have two years to waste."
She said the senators recognize that the Virgin Islands and St. Croix, in particular, are in critical positions "that we've never been in before."
Alluding to the government's precarious financial situation, Buckley said of the new Legislature, "A lot of the perks have been cut. I want you to understand that this senate president, to his credit, has made a commitment to be much more fiscally responsible than we've seen from the Legislature in years gone by and to be more transparent."
When Buckley dove into the committee assignments she'd received and the issues she wanted to address, she touched on a number of pressing topics of concern to Virgin Islanders.
"Tackling crime is a multi-pronged approach. There's not one panacea for it. There's not one thing that's going to slow crime down. It's going to take efforts on every single level," Buckley said. "We need to get all the stakeholders to the table and talk about what we can to stop the revolving door."
Buckley said securing the guns in the territory was paramount in the fight against crime. She made mention of a statistic that said 60 to 70 percent of crimes committed in the territory with a gun were the result of the weapon used being a stolen one.
"What happens is the gun is stolen, a crime is committed with it, but they never report the gun stolen because they don't want to get in trouble. I've heard that story so many times," she said.
Buckley also made mention of growing the VI's agriculture industry and starting anti-littering and anti-bullying campaigns in the schools.
When she opened the floor up to questions, she was joined at the podium by Sen. Kenneth Gittens. When asked what could be done to advance a loitering bill and get a noise ordinance passed, both Gittens and Buckley said the issue was not new legislation, but rather enforcing laws and educating the public about those laws already in place.
"One of the things that I've seen here is we have legislators putting laws on the books and it's not trickling down to those responsible for enforcing and prosecuting the case," Gittens said. "We want to make sure there is enforcement across the board. Enforcement is something we're really lacking."
At the conclusion of the event, Hotel and Tourism Association Executive Director Lisa Hamilton presented proceeds from the Holiday Hope event in December to two local charities, Boys and Girls Clubs of the Virgin Islands and V.I. Casa, which advocates for neglected and abused children in foster care. Having just questioned Buckley and Gittens about waiting for the organization's $90,000 allocation from the government, Boys and Girls Clubs Executive Director O'Neil Canton said the $5,000 check would come in handy.
When V.I. Casa Director Gail Shearer accepted its check, her words spoke volumes about the dire financial circumstances many of St. Croix's nonprofits are experiencing at the moment.
"A lot of the nonprofits have not seen any of their local government allocations since Oct. 1," Shearer said. "It's been a particularly difficult five months with very little cash flow."