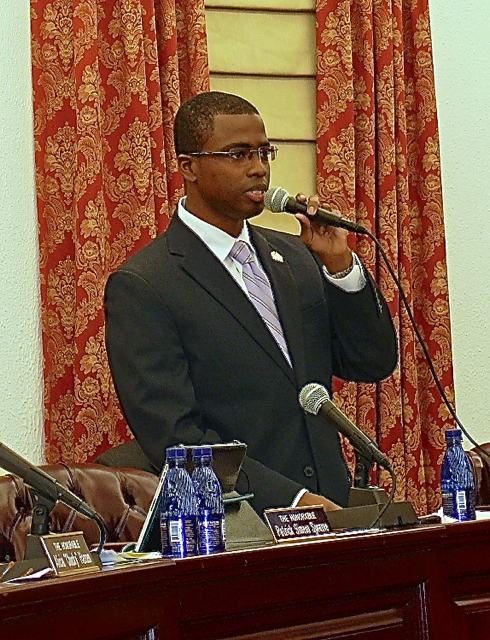 Former St. Thomas Sen. Alvin Williams asked the court to let him plead guilty to one federal racketeering charge from a nine-count indictment Monday, the same day his term of office as a V.I. Legislature expired with the swearing in of the 30th Legislature.
"I engaged in illegal activities through a pattern of racketeering as a Senator in the Virgin Islands Legislature," Williams writes in his own hand in his change of plea request, filed with the court Monday.
Williams, along with two long-time legislative staffers working directly under him, were charged in November with an array of federal and territorial racketeering and public corruption charges stemming from allegedly offering bribes, soliciting bribes, extorting money from employees, and a slew of other offenses. (See related links below.)
The change-of plea request goes on to say that Williams faced a maximum of 80 years imprisonment and $568,000 in fines if convicted of all counts. Under the plea agreement, if he pleads guilty to one count, he faces a maximum sentence of 20 years and a potential fine of $250,000.
In his request to enter a guilty plea, Williams asserts there has been a plea agreement entered between himself and U.S. Attorney Kim Lindquist. He writes "In return for plea to count 1, government will dismiss other counts, will bring no related charges, will recommend credit for acceptance of responsibility and will consider other recommendations."
Count one of the indictment charges Williams corruptly used his Senate office and elected position "through a pattern of racketeering" to enrich himself. That charge, to which Williams now pleads guilty, alleges he gave an envelope with $10,000 cash to Public Works Commissioner Darryl Smalls "intending to influence said Commissioner of the Virgin Islands Department of Public Works and the Virgin Islands Department of Public Works with regard to the future granting of work" to Ace Development, Inc., his family's contracting company.
A hearing on the change of plea request is scheduled Thursday in U.S. District Court on St. Thomas.
If the court accepts the plea deal, several charges will be dropped, including charges stemming from allegations Williams solicited a bribe from the developers of the Raphune Vista housing project on St. Thomas, in exchange for which he corruptly promoted legislative action and supported funding and zoning for the project, between 2007 and 2011.
Williams also will escape charges stemming from allegations he solicited and received a $10,000 and a $25,000 bribe – both in the form of campaign contributions – from the developers of the Tutu Park Mall windmill power generating project, between September 2008 and September 2009, in exchange for Williams' promoting legislation supporting the project.
The plea would take off the table charges that between the beginning of 2006 and the end of 2011, Williams and a staff member falsified campaign disclosure reports to help pocket some of his campaign contributions, and also improperly spent recorded campaign contributions from a campaign account.
Williams would also not face punishment for charges related to allegation that in the summer of 2010, he solicited and received bribes from legislative staff members by offering to increase the staff members' salaries, in exchange for which the staff members would withdraw a portion of the increased salaries in cash and make the cash available to Williams.
It is unclear at present how, or whether Williams' guilty plea will affect charges against two of his subordinate employees: his senior adviser, Garry Sprauve, 64; and his chief of staff, Kim Blackett, 29, who were charged along with Williams.
The three are currently scheduled to be tried together. No change of plea request or amended complaint was filed with the federal courts in regard to Sprauve or Blackett as of Jan. 15. Their status may be part of the discussion during the Jan. 17 hearing.