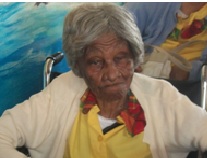 Sheila Josephine Celestine of the Herbert Grigg Home for the Aged died on April 11. She was 100 years old.
She is survived by her son, Victor William; grandchildren: Davidson William, Jenefer William, Albert William, Frank William and Debie William; great-grandchildren: Isiah William and Dana William; nieces: Josephine Paul, Flara Thomas, Ashley Thomas, Ivinia Thomas, Vanda Joseph, Davinia Paul, Victoria Dyer and Anilia Royer; nephews: Skeith Thodore and Nomen Thodore; great nieces/nephews: Bernadine Christmas, Franciette Drigo, Adora Tousant, Loyd Paul, Avondale Paul, Frances Paul, Robert Thomas, Aly Thomas and Latoya Thomas; friends: Andrea Bougouneau, Maudlyn Kelly, Fedrick Joseph, Doris Phillip, members of the Sacred Heart Society of St. Patrick's Church, members of Dominica United Cultural Society, the Department of Human Services, the Herbert Grigg Home for the Aged management and staff; and other relatives and friends too numerous to mention.
There will be a viewing held at 9 a.m. and a funeral service at 10 a.m. on Tuesday, May 1, at St. Ann's Catholic Church. Interment will follow at Kingshill Cemetery.
Professional Funeral Services Entrusted to:
James Memorial Funeral Home, Inc.
"Let Our Personal Touch Ease the Burden of Your Loss" Located at 6AA La Grande Princesse Telephone: 718-8663 Fax: 718-8661