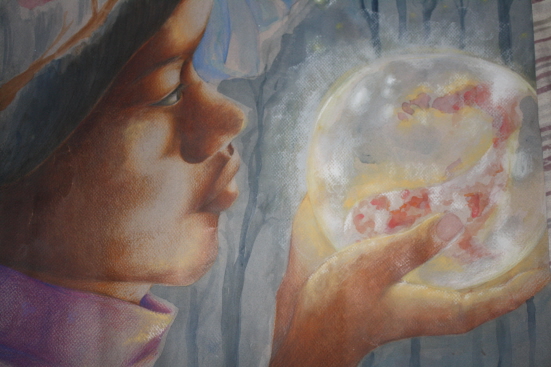 Those viewing the artworks in the 2012 Caribbean Colour Juried Art Exhibition on Saturday will have the added pleasure and responsibility this year of picking the winners.
Sponsored by Artvi Advocates, the show will be up from 5-9 p.m. at The Ice Gallery at St. Thomas Dairies, across from Udder Delite on Magens Bay Road. This annual juried art exhibition celebrates the diversity, creativity and quality of work being produced in the U.S. Virgin Islands.
According to Priscilla Hintz, executive director of Artvi, all the artwork will be judged by the viewing public, not a designated judge.
"We decided we wanted to have a more democratic and engaging process for all the viewers by allowing all who choose to participate an equal opportunity to express their opinion," said Hintz. Inspiration for the idea came from recent crowd-curated exhibits such as the Brooklyn Museum's Click! exhibit, motivated by the book The Wisdom of Crowds in which New Yorker business and financial columnist James Surowiecki asserts that a diverse crowd is often wiser at making decisions than expert individuals, she said.
Said Hintz, "The theme for the show was inspired by the award-winning cartoonist, playwright, and author Jules Feiffer, who once said, 'Artists can color the sky red because they know it's blue. Those of us who aren't artists must color things the way they really are or people might think we're stupid.'"
Ballots will be provided for each category and a majority crowd vote will determine the 1st, 2nd and 3rd prizes. Only one ballot allowed per person. Judging will commence at the opening of the exhibit, 5 p.m. and end at 8:30 p.m. The winners will be announced at 9:15 p.m. In the event of a tie, the winners will be determined by the Artvi board. Up to $1,500.00 cash prizes will be awarded.
Featured in the exhibition are more than 30 works of art from local resident artists, as well as over 20 works of art by students from Charlotte Amalie High School, Ivanna Eudura Kean High School, Antilles School, and the School of Visual Arts and Careers, among others.
Audience members can also participate in an interactive art project called "Color Splash!" Admission is free, hors d'oeuvres and cocktails will be served.
A percentage of the proceeds of the artwork sales will go towards Artvi's Arts Education Fund, which provides financial assistance to at-risk youths who wish to attend visual and performing arts classes. Artvi Advocates believes that arts programs have a measurable impact on youth at risk in deterring delinquent behavior and truancy problems, promoting more prosocial behavior, improving communications skills with peers and adults.
Artvi Advocates' mission is to support and promote the arts in order to enhance the cultural, social and economic well-being of the Virgin Islands through arts education and advocacy. "Caribbean Colour" is funded in part by the Virgin Islands Council on the Arts and the National Endowment for the Arts.