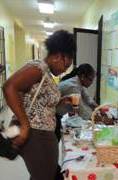 Ricardo Richards Elementary School faculty and staff prepared a traditional Virgin Islands breakfast of bush tea, coconut drops and Johnny cakes to show their appreciation for parents, as part of March V.I. History Month observations Wednesday, according to Assistant Principal Wendy Gonzalez. They join students across St. Croix who are taking time out to learn more about their history, culture and traditions this month.
There has already been a quiz bowl, and a puppet and poetry show at Ricardo Richards; an oral communication showcase at Charles H. Emanuel Elementary; and presentations on outstanding Virgin Islanders at Evelyn M. Williams Elementary School, according to a statement from the Department of Education.
Ongoing activities include essay contests, field trips, parent involvement days and cultural displays.
Other activities planned in the St. Croix school district in accordance with V.I. History Month include:
March 23
– Ricardo Richards Elementary will hold a Quelbe Concert featuring Stanley and the Ten Sleepless Knights at 1 p.m. Staff and faculty members are practicing their Quadrille steps to take part in the concert;
March 26
– Ricardo Richards Elementary Quiz Bowl for students in second through sixth grade during the school day;
– Claude O. Markoe School steel orchestra entertains Adventure of the Seas passengers from 2 p.m. at the Ann Abramson Pier in Frederiksted;
March 27
– St. Croix Educational Complex presents a cultural program "Footprints from a Shackled Past" from 12:30 to 3:15 p.m. in the school's gymnasium. Students will be allowed to wear colored clothes for a small fee of $2. Proceeds will go towards the funding of the Language Arts Showcase and the National English Honor Society induction ceremonies scheduled for April;
– Ricardo Richards School Quiz Bowl second day;
– Claude O. Markoe Elementary Walk of Fame;
March 28
– Evelyn Williams Elementary School will hold a cultural luncheon. Students will be treated to local dishes such as salt fish and dumpling during the lunch period;
– Claude O. Markoe Elementary faculty, staff and students plan a Crucian breakfast;
March 29
– Ricardo Richards students will visit historical sites and buildings during a school fieldtrip across the island;
March 30
– Evelyn M. William Elementary cultural program during the school day;
– Claude O. Markoe Elementary Cultural Expo with a local band;
March 31
– Ricardo Richards Elementary sixth-graders' Transfer Day Crucian Breakfast at the school from 8 to 11 a.m.;
April 2-3
– Claude O. Markoe Elementary students go on historical and cultural tours.