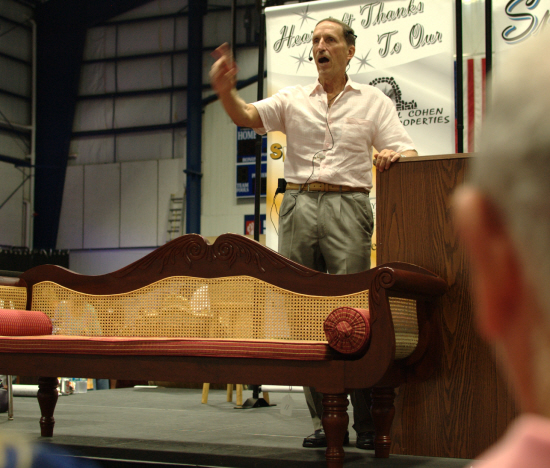 Clutching a clipboard in the Mark C. Marin Center at Antilles School, attorney Leigh Goldman was surrounded on Sunday afternoon by antique West Indian furniture, collectible art and curious shoppers. It was the Hebrew Congregation of St. Thomas' 13th Annual Antiques, Art and Collectibles Auction, and Goldman – who was staring intently at a spreadsheet – simply couldn't stop working to chit-chat.
Fellow volunteer Sean Krivatch was also too busy to talk, as he was hustling to ensure auctioneer Bruce Wilson didn't have to skip a money-raising beat during the congregation's highly successful single annual fundraiser.
Both men told a visiting reporter to get the scoop from V.I. media maven Penny Feuerzeig, one of about 10 volunteers who work year-round to plan the event. Seated and smiling in one of the front rows, Feuerzeig said a crew of close to 100 devoted volunteers and countless shoppers from all faiths are key to the event, which raises nearly $60,000 each year to maintain the congregation's 179-year-old synagogue in downtown Charlotte Amalie.
"The whole community is supportive, and we really are so appreciative," Feuerzeig said.
Sunday's auction, which cost only $10 to enter, offered something for shoppers on every budget. Silent auction tables held treasures such as gift certificates to local hotels, restaurants and shops, while the flea market area was stocked with new and secondhand housewares, jewelry and clothing priced as low as $1. The signature shopping experience was the llive auction, which focused on antique West Indian furniture such as a stunning French Creole stump post bed, which dates back to 1850 and is valued between $6,500 to $7,500.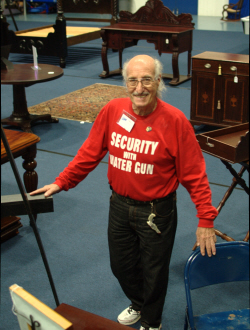 "As an auctioneer, I enjoy selling really nice furniture," said Wilson, a St. Croix resident who's worked the event for the last decade.
Beyond fine furnishings, the silent auction offered memorable experiences, such as boating excursions, an in-home couples massage with champagne and chocolate wedding cake, and an Indian gourmet buffet for ten prepared by Shami Mohanani in the buyer's home or hers.
During a break in the auction action, Lawrence Goldman, a congregation member, Gold event sponsor and father to hard-working Leigh, said he was going to try to get the trip to the Dominican Republic and some romantic valentine jewelry for his wife.
Across the room, congregation board member Marilyn Blackhall eyed a table of silent auction treasures that included a basket of blooming orchids donated by Felipe Ayala. Like many of the auction attendees, Blackhall had spent the previous evening dining, dancing and donating for the sake of another good cause: The Humane Society of St. Thomas, which hosted its annual Valentine Ball on Saturday.
Blackhall said the congregation's annual auction is her favorite community fundraiser.
"You don't have to get dressed up, it's not a big fee to come in," Blackwell said. "It really crosses the community, and there are things for everybody."
Things such as a super-cute, close-fitting black T-shirt adorned with Bichons – a treasure the visiting reporter scooped up for the half the cost of its $9 price tag, after return shopper Steve Pullen confided that the flea market prices drop during the event's final hour.
Retired organic farmers from Monterey, Mass., Pullen and his wife, Sally, said they are on St. Thomas visiting relatives who exposed them to the auction's charms last year. The Pullens said they appreciate how the West Indian furnishings are unlike anything offered at most St. Thomas stores that cater to tourists.
Sally said she also liked how their family's money was helping to keep the synagogue, a National Historic Monument, open daily to the public. The Pullens are not Jewish, Sally said, but they loved touring the structure, which the small congregation restored about 12 years ago.
"It's really beautiful," Sally Pullen said. "It's like a national treasure."