A long-awaited letter from one federal official to another could finally set in motion a proposed resort development – eight years in the planning stage – that might be able to break ground this year, eventually bringing as many as 3,000 jobs, proponents said Tuesday.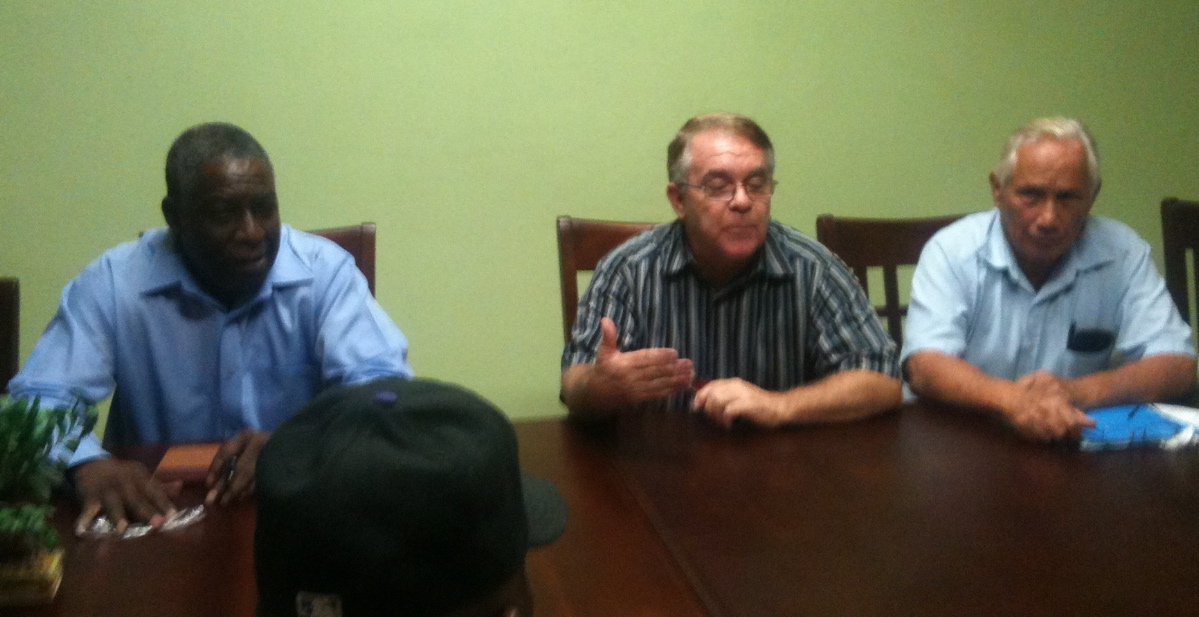 To help tilt the decision in favor of the Williams & Punch development, supporters will march Thursday morning in front of the Christiansted Federal Building in Estate Orange Grove, they decided at Tuesday evening's meeting of the ad hoc group, We The People.
Community activist George Flores opened the meeting telling the 30 or so people in attendance at Paquito's Restaurant that the letter being held up on the desk of a fisheries official at the National Oceanic and Atmospheric Administration in San Juan, Puerto Rico, was finally forwarded to the official's boss in St. Petersburg, Fla., Monday.
At stake is a permit from the Army Corps of Engineers, the final step needed for the project, which is planned for property north of Frederiksted, between Rainbow and Sunset beaches. Developer Chris Elliott said the consulting period actually opened last February, and the San Juan official received the document in October. It then sat on that official's desk until this week. A press conference by Elliott, other developers, Delegate Donna Christensen, and Flores turned up the heat.
"She got a lot of phone calls," Flores said Tuesday.
It is now up to an official in Florida, according to Elliott. If the official recommends informal consultation, the permit could be issued as soon as April. If he instead insists on formal consultation, the wait could be considerably longer.
"It's not final, but at least we're making some progress," Flores said.
On an island where the major employer – Hovensa – has announced it is closing its oil refinery and ending some 2,500 jobs, any good news is welcome. Elliott said consultants hired by the developers have estimated the three-year construction phase will employ an average of about 600 people a month, with a high of 1,000 for some work. When the resort opens he expects to hire about 800 people right away, and when it is fully built the resort will employ more than 1,200 people, Elliott said, with support businesses employing as many as another 2,000 in everything from laundries to bakeries.
"If we can get the permit by April, we can break ground this year," Elliott said.
For the people at Tuesday's meeting, many of them wearing Hovensa uniforms and caps, that news was greeted with smiles and a smattering of applause.
To keep the pressure up, supporters are inviting anyone interested to join them in a rally at 10 a.m. Thursday in front of the federal building. Numbers matter, Flores said, and the bigger the crowd, the better.
"Bring someone with you. Bring your cats and dogs, your sons and daughters," he said.
"Bring your kids," Elliott added. "It's their future."
Flores said the march is aimed at NOAA, to break the paper jam, not at the V.I. government where officials are pulling out all the stops to get the project started.
"It's simple, we need jobs," Flores said. "We've got to tell NOAA we need help, we're bleeding to death."
Lt. Gov. Gregory Francis attended the meeting and promised his help. As plans for Thursday's march unfolded, he got on the phone to Police Chief Christopher Howell to work out safety arrangements.