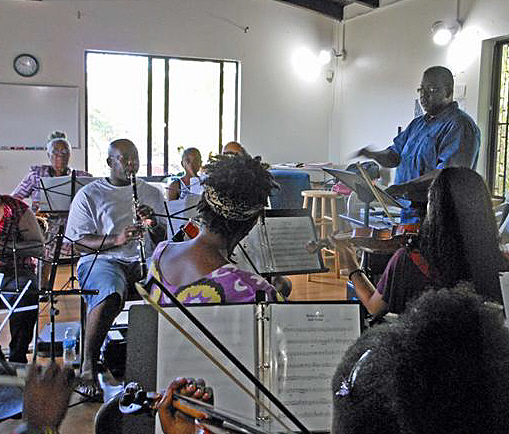 Bits of music – a violin here, a clarinet there, an occasional drumbeat – drifted from a second floor window over an otherwise still Tillett Gardens Sunday afternoon.
These random notes were from the final rehearsal of the Virgin Islands Philharmonic Orchestra, tuning up for its upcoming first performance Saturday.
The V.I. Philharmonic – it has a nice ring to it. It's the territory's first symphony orchestra, the creation of professional musicians James Gumbs, conductor, and Leah Aronin, president of the 23-piece community-based orchestra.
Gumbs, a well known figure in the local music community, is director of the G-Clef Music Academy, where the rehearsal is taking place. Aronin played violin with the Duke University Symphony in North Carolina,
"It was Leah's idea," Gumbs says. "She approached me last summer when she was teaching violin in summer camp."
"We actually started from scratch in terms of the adults," Aronin says. "It's a mix of all ages. Some of the adults have played in the past, but maybe been away for 30 years or more. We put out the word and people came from all over the island."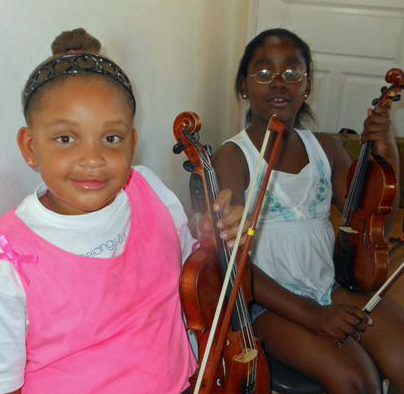 The orchestra is nothing if not eclectic. There's eight-year-old violinist Makayla Rene, who is unrattled at the prospect of a symphony performance. "I feel very confident," she says, returning to arranging the sheet music before her. Fellow violinist Chantelle Carty, nine years, is a bit more emotional: "It's going to be great," she says. "I'm so excited."
It's hard to break the concentration of 10-year-old drummer Dashan Walker. His mother, Shana Walker, a violinist herself, says "Dashan was drumming before he could talk. He started at two on pots and pans. He's been taking lessons ever since."
Then there's Thelma Walters on tenor sax, arguably the group's senior member. Her gray hair neatly held in a pony tail, Walters says she heard about the group forming and simply decided she'd like to be part of it. "I've played piano," she says, "but I decided I'd like to learn the saxophone. I started in September." One would never know that from the way she handles the beautiful instrument.
The orchestra has drawn top-drawer talent, such as University of the Virgin Islands professor composer and pianist Lorna Young-Wright on the violin. "I haven't played violin in years," Young-Wright says, as she breaks from her concentration on the task at hand. "I just thought I'd like to do it."
Life coach Ann Nayer is another musician drawn to the chance to play again. "I'm really a pianist, but I've played violin as well," Nayer says, "and this is such a wonderful opportunity to play again."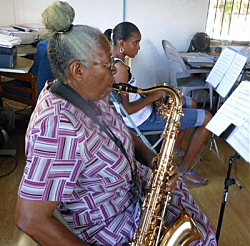 Then there's the teenage pros – Alana Davis and Isis Collier, who play violins professionally as the Sweet Strings. Collier says, "We've never played in an ensemble before, and classical is a different sort of music. I'm looking forward to it."
Adult clarinetists Dave Goodman, and Terrence Corbett, band conductor at Bertha C. Boschulte Junior High School are busy comparing notes, so to speak. They are joined by eight-year-old clarinetist Rysa Bryan.
Conversations come to a halt as Gumbs rather appears before the ensemble, wielding a ballpoint pen as his baton. The disparate musicians now come together in the ebb and flow of French composer Gabriel Faure' s lovely "Pavanne."
The mix of old and new, professional and student, is working out well.
Gumbs is pleased. Speaking later, he says, "I feel good. We've come a long way. The adults have been very patient. Some of them haven't played in years, but they wanted the opportunity to express themselves in music. The desire is there and they show up. It's voluntary, you know, and that speaks volumes.
"These people don't have to waste their time to come and play along with beginners, but they want to," he adds.
"We're very soft on trumpet," he says, "we need brass, but I'm looking forward to more musicians joining."
Aronin shares Gumbs enthusiasm, echoing the same sentiments. "Everybody wants to be here. They are choosing to make music. It's not something that anybody is forced to do. It's exciting and I'm so proud of everybody."
The orchestra debuts Saturday at 6:30 p.m. at the V.I. Christian Ministries Auditorium, in Bolongo Bay in an evening of music called "The Symphonic Sounds of Spring," with Boschulte students presenting their Spring recital. Tickets are $5 and are available at G-Clef Music Academy and from participants. For more information, call 344-6449 or email gclefmusic@live.com