Even with a rough economy this year, donations from local businesses still made the annual Santa's Sleigh event in downtown St. Thomas one of the best yet, said organizer Bruce Flamon.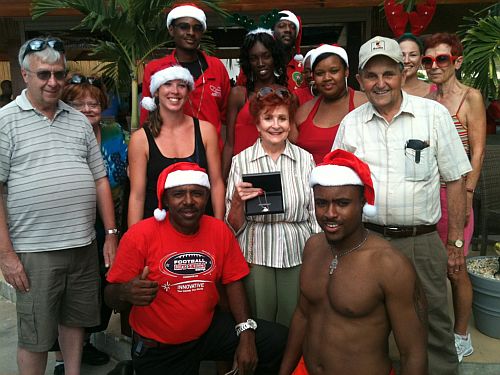 Flamon, a local businessman and co-owner of 1-855-VISERVICES, has continued to put on the event for the past seven years. . Being from Chicago, Christmas time is very festive – it doesn't feel the same on island – and Flamon wants tourists to feel a Chicago Christmas.
Gathering in front of the new Magic Ice building on the Waterfront Saturday, he and a number of helpers dressed as elves handed out a variety of presents to tourists visiting the island on Christmas Eve. Flamon does this as a labor of love, but it also benefits local businesses that support the event.
"We only have one ship in right now, but there is still a lot of enthusiasm," said Flamon, who was dressed as an island-style Santa Claus in a red T-shirt, jeans and Christmas hat. "All of the stores participated. I've got over $5,000 worth of gifts here that I can give away, so it has just been fantastic."
The gifts ranged from free stays at the Marriott Frenchman's Reef Resort to diamond cut earrings and watches. In addition, the event also featured a large ice sculpture of Santa with his sleigh from Magic Ice, and a special presentation from Subbase Dry Dock.
"Definitely not too bad," said Karen Johnson, after winning a three-night stay at the Magens Point Resort. Coming from California, Johnson and her husband were in the territory visiting family when they came across Flamon's event downtown.
"It's great because today, it doesn't really feel like Christmas, but receiving this, it's like yes, it is Christmas," Johnson said. "That's when you get the best presents."
Johnson said she and her husband are only on island for six days, but will be returning to cash in their coupon. The certificate to Magens Point is good until 2013, she said.
Flamon also takes the tourists that participate in the Santa's Sleigh event on an island tour after the gift giveaway. They get to see the sights, eat lunch, and have some fun with Santa's helpers. Flamon's son and nephew, who were visiting from the states, were included in the pack this year, making the event "even more special" for the organizer.
"It's just fantastic for me to be able to do this," Flamon said. "And we hope to make it even bigger and better next year."