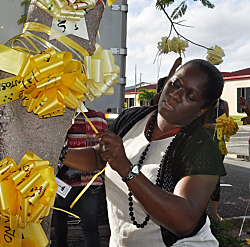 A large tree on the V.I. National Guard armory grounds on St. Croix became a little more "flamboyant" than usual Sunday when family and friends tied big yellow ribbons around its trunk, honoring their deployed loved ones who won't be home for Christmas.
Every time a VING unit deploys, the State Family Support Program holds a Yellow Ribbon Ceremony to bid their troops goodbye. After a few weeks or months, when the soldiers or airmen have been gone a while, another ceremony is held for the families to tie yellow ribbons around a tree to signify hope that their loved ones will return safe and sound.
"When a service member is deployed we always go through the history of 'tying a yellow ribbon' for their families so that they understand the significance," Anselma John-Ayala, family assistant coordinator, said.
This time, the ceremony honored the 39 members of the 104th Rapid Aerostat Initial Deployment (RAID) team, which deployed to Afghanistan in September, as well as two members of the 285th Combat Communications Squadron, who deployed in October.
Indie S. Prospere was at the ceremony to honor her brother, Sgt Josiah Prospere, who she misses greatly. The siblings are so close they talk nearly every day, and she said it feels like forever since he's been gone.
"I miss him so much and I am just hoping he comes back soon," Indie Prospere said. "I miss his laughter and his jokes, and I just keep him safe with my prayers."
A look of sadness crossed over Jaye Whipper's face as she tied a ribbon for her fiancé, Spc Miguel Ramos.
"It's just really sad not having him around," Whipper said, frowning.
Ten-year-old Demonte Cromwell was also pretty sad. He looked down at the ground and played with a stick as he talked about missing his dad, Sgt Dwayne Cromwell, who is on his fourth deployment.
"He used to take me to the movies and fishing, and when I would sleep over at his house we would play board games," Cromwell said.
Delegate to Congress Donna M. Christensen also showed up to help tie some ribbons, which fit in perfectly with what Congress did last week – each member wore yellow ribbons in support of the troops returning home from Iraq.
"We sent Christmas cards to all the deployed members, and I always come to the ceremonies when a unit deploys, but I didn't realize they were having a yellow ribbon event today — so it just turned out perfectly," Christensen said.
The State Family Support Program Director Linda Todman described the yellow ribbon as a symbol of hope for people.
"Some families even tie yellow ribbons on their houses and put the stickers on their cars," Todman said. "These ribbons just hang on the tree and we don't take them down until they return home safely."