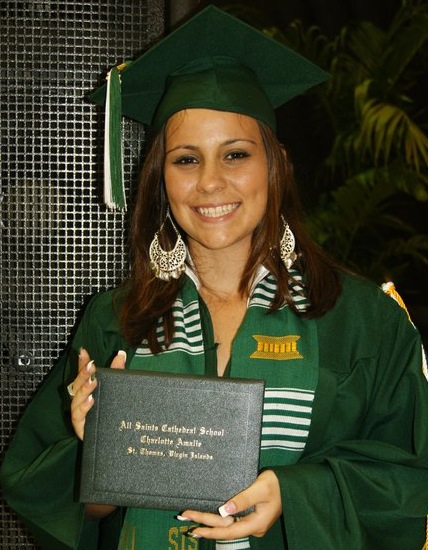 Services will be held Monday, Dec. 19, for Kimberley R. Brin, age 17, who died Dec. 5. She succumbed to her injuries sustained during a tragic car accident caused by a drunk driver. Kimberley was completing her first semester at Christopher Newport University in Virginia, majoring in law studies. The services will be held at 9:30 a.m. at the Sts. Peter and Paul Catholic Cathedral. Burial will be at Our Lady of Perpetual Help Cemetery.
She is survived by her parents: Albert and Celeste Brin, sister, Shanelle Brin; grandmothers: Emelda Ledee and Ann Marie Margaret Brin; grandfather, Arsene Garrin, aunts: Carol Williams, Rose Brin, Joan Mojhar, Evelyn Ledee, Esther Ledee and Ursula Bryan; uncles: Thierry Williams, Danny Brin, Winston Ledee, Gregory Ledee and Simon Ledee; and cousins: Roxanne L Bellotti, Kurt Berry, Eileen Matthew, Charles Mojhar, Peter Mojhar, Kenny Laplace, Suzanne Laplace-Schack, Randy Laplace, Pamela Laplace, Desiree Hawkins, Wesley Ledee, Kristy Ledee, Kelly Ledee, Selina Ledee, Scott Ledee, Jordan Ledee, Dillon Ledee, Connor Ledee, Crystal Bryan, Tiffany Quetel, Amy Durand, Joseph Ledee, Amanda Ledee, Joshua Ledee, Jason Brin, Daniel Brin, Alain Brin, Natalya Williams, Julian Williams and James T. Williams as well as numerous other family members too numerous to be listed.
She is also survived by special loved ones: Dr. Frank, Julia, Nia, Ariel, Kai and Kyra Odlum,
Dr Carl Morrison and family
,
the All Saints Cathedral School Class of 2011, and many other close friends too numerous to mention. She is preceded in death by her grandfathers: Clement R. Brin and Joseph E. Ledee and aunt, Lorraine L. Berry.
There will be a first viewing held from 4-6 p.m. on Sunday, Dec. 18, at Davis Funeral Home Chapel. A second viewing will be held from 8-8:50 a.m. on Monday, Dec. 19, at Davis Funeral Home Chapel. It will be followed by a funeral service at 9:30 a.m. at Sts. Peter and Paul Cathedral.
Arrangements are by Davis Funeral Home. In lieu of flowers, the family wishes that memorials in Kimberley's name be sent to the Community Foundation of the Virgin Islands towards a scholarship fund.