St. Croix's chefs got their fill of fresh produce Wednesday thanks to the first ever "Virgin Fresh Farmer-Chef Market Day" held at the Rudolph Shulterbrandt Agriculture complex in Estate Lower Love.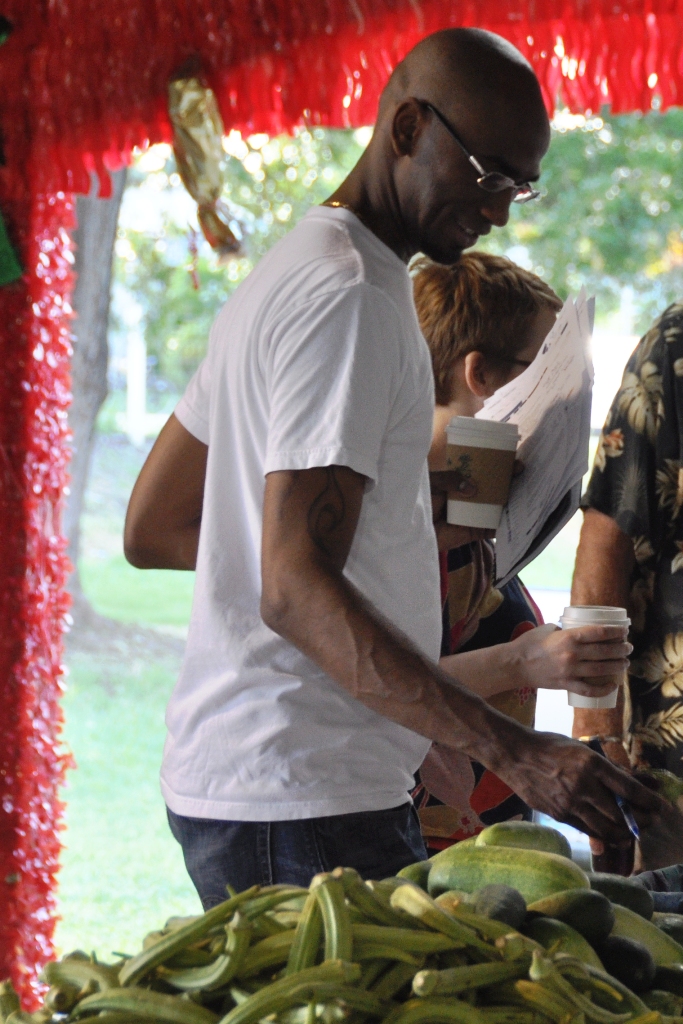 Nearly a dozen local farmers brought their freshest fruits, vegetables, herbs, and spices to the market hoping to pair up with the island's top chefs, who will be cooking this Friday at the Crucian Fusion – Traditional Gone Gourmet CHANT fundraiser at 6:30 p.m. at the Fort Frederik Museum.
Celebrity Chef Orlando Santos, the Crucian star of Bravo's "Top Chef Just Desserts," was at the market hoping to find ingredients for the six course meal that he plans to prepare at a private fundraiser he's holding tonight to benefit CHANT.
"I'm just here shopping for the freshest ingredients," Santos said. "The menu has already been prepared, but I can always adapt and adjust if I find something fresh and local."
Santos gave a sneak preview of one of the delicious menu items: an upscale version of kalalloo.
"Instead of using fungi, I will be sautéing it and frying it with panko bread crumb, so that it's crunchy," he said.
Brian Wisbauer, the executive chef at Blue Moon Café in Frederiksted, was filling his bag full of fresh produce from Sejah Farms.
"I exclusively represent Ridge to Reef Farm, but with all this produce here, you could put together a pretty good menu," Wisbauer said. "This is a cool event – great place for chefs to shop."
Camisha Lynch, the Culinary Arts teacher at St. Croix Central High School, was shopping for ingredients to put in the conch chowder she's making for CHANT.
"I'm just here to see if I can find any local fresh herbs and local sweet potatoes, chives, or any local sweet peppers to give it a local flavor," Lynch said.
The vendors greeted the chefs and public with smiles hoping to sell out. Gloria Neale-Feliz, who has a farm in Montpelier, Christiansted, said "I'm happy to be invited and, God willing, hope I sell out of every item by the end of the day."
Gary and Laurie Pokorny, who own Sun Croix Foods, LLC, just moved to St. Croix in May from Michigan and brought fresh vine and cherry tomatoes and herbs to sell. It was their first event to showcase some of their items to the local chefs and they were excited about the opportunity.
"Since our kids are grown, we decided this was something we always wanted to do, so we sold almost everything we own and now we just farm full-time," Lauri Pokorny said. "We are just happy to be here and overall people are really friendly."
In addition to local farmers, three students from Elena Christian Jr. High School's after school Beacon program were on-hand cooking and handing out samples of the mustard greens they grew in their gardening program. Gina Bell, their teacher, was there to help them prepare the greens.
"We like cooking, it's fun and we enjoy making things with Ms. Bell," 12-year-old Danté Harris said.
Maude Cornelius, from the V.I. Farmers Cooperative was there selling fresh herbs and vegetables. "This is really beautiful and I wish they would have more of these events, but people here must have the commitment, that's what the V.I. needs," she said.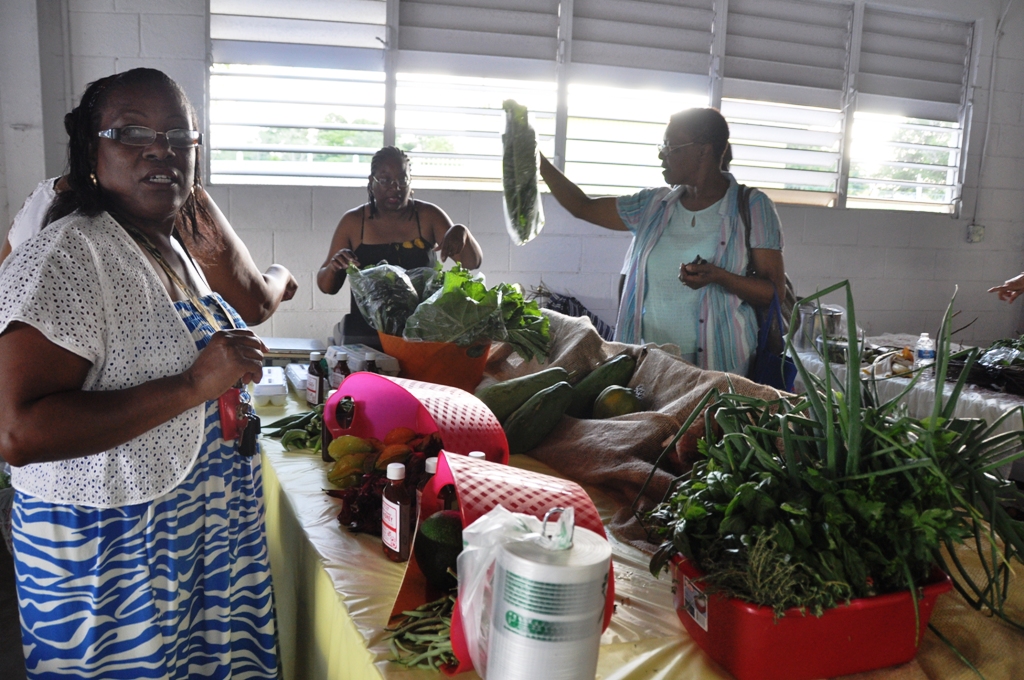 The event was funded by a USDA Agriculture Marketing Service grant awarded to the Agriculture Department to improve linkages between producers and buyers. Funding from the grant was used to issue approximately $2,000 worth of Virgin Fresh purchase coupons to restaurant chefs for the exclusive purpose of shopping at the Virgin Fresh Farmer-Chef Market Day event.
According to Agriculture Commissioner, Louis Petersen, each restaurant involved received a Virgin Fresh coupon for $25 or $50 to purchase local produce from the farmers to form linkages between the farmers and chefs.
Tickets are available for CHANT's Crucian Fusion at Polly's at the Pier, Applause in Sunny Isle, and Undercover Books in Gallows Bay, or can be purchased at the CHANT office at 340-719-5455. The cost of attendance is $50 to sample the gourmet Crucian cuisine.
For more information about how to purchase "Virgin Fresh" products, visit the V.I. Department of Agriculture's website at http://www.vifresh.com/.