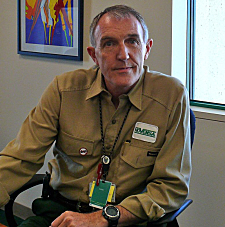 After several unprofitable years, Hovensa needs to buckle down and run a clean, efficient, tight ship and be ready to take advantage when market conditions improve, its new chief executive officer Brian Lever said in an interview with the Source.
The British-born Lever came out of retirement after a 32-year career at ConocoPhillips to take the top post at Hovensa in June and try to turn the troubled refinery around.
And troubled it is: In the past year and a half, the refinery has had several accidental releases, including three incidents where a fine mist of partially refined oil was sprayed over nearby neighborhoods, at least two reported releases of smelly, noxious hydrogen sulfide and sulfur dioxide, and more recently, complaints of oily fumes because of some petroleum that overflowed from its water treatment plant.
"What has happened in the past in unacceptable and our goal is to eliminate them," Lever said of the aerosol releases, flares and other incidents of recent years.
Hovensa and the U.S. Environmental Protection Agency reached an agreement in January, in which the refinery is to pay a $5 million fine and invest $700 million over the next decade to reduce emissions of nitrogen oxide and sulfur dioxide.
Since then, the refinery shut down some of its oldest, least profitable sections, reducing its capacity from 500,000 barrels per day to 350,000 barrels per day, laying off 86 of its roughly 1,100 employees at the same time.
To top it all off, the refinery has been losing hundreds of millions of dollars per year for the last three years, thanks both to global refining economics and the particular economics of Hovensa. And losses are projected to continue.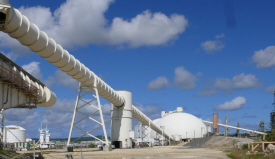 Lever remains optimistic in the face of all this, saying the company can do better, by tightening ship and being ready to take advantage when conditions change.
While the refinery works to become more efficient, Lever also pledges to work to make the refinery as clean as possible and to be a good neighbor.
"At the end of the day, we live here too. We work here, our families live very close and we have an inherent need to keep as safe as we can," Lever said, adding that the refinery "went through the whole of October without any reportable environmental event," marking the first full month without any incident in several years.
To do anything, however, Hovensa must eventually make a profit. In 2009, the refinery went into the red, losing $458 million, after a slight profit the year prior. In 2010, the company lost $438 million, according to part-owner Hess Corporation's 2010 annual statement. And through September 2011, the refinery had lost about $348 million, assuming Hess's loss on Hovensa's operations is proportional to its 50 percent stake in the operation.
To some degree, these losses reflect a poor refining market, Lever said. And many sources say excess capacity and small margins between the cost of crude oil and the cost of refined products have pinched refineries in recent years.
And to some extent, Hovensa has inherent disadvantages, due to its location, he said. Being out in the Caribbean on a small island increases costs. Every time the refinery performs a major maintenance operation or "turnaround," it has to bring in people, parts and equipment at greater cost than stateside. At the same time, the location creates advantages too, he said
"When we look at the logistics of bringing in crude oil and shipping it out again we are very well-placed," Lever said. "We need to recognize and reenergize the advantages we have over the long haul and make up for those inherent disadvantages."
Ironically, for a petroleum refinery, one of Hovensa's biggest hurdles is the fact that it depends on petroleum to provide the energy to run its operations.
"U.S. refineries are tied to the grid and they can use natural gas, which is much cheaper," Lever said. "All our power comes from the crude oil we buy, and we all know how expensive that is, … It is parallel to what is happening across the Virgin Islands. The same increases in power and water costs are affecting us. … We have to find a different way to fuel this refinery, whether by natural gas or other sources."
The V.I. Water and Power Authority has been exploring converting units to run on natural gas, to save money, and has expressed interest in working together with Hovensa on some method of storing the gas. A year ago, Hovensa spokesman Alex Moorhead said the company "has no plan to finance the construction of a storage facility for natural gas to facilitate the importation of natural gas," because "it would require a substantial investment of funds."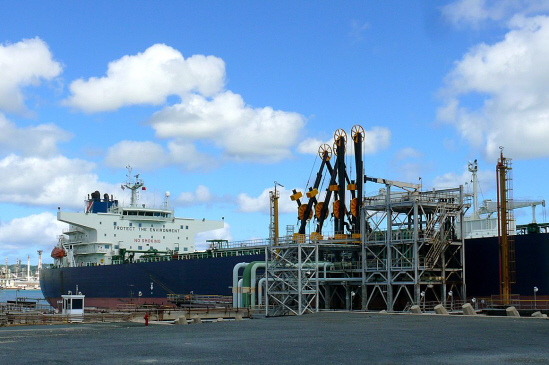 This week, Lever was guardedly optimistic about the possibility of some sort of program, albeit with some concerns.
"I think Hovensa would be open to a discussion around any alternative," Lever said. But Hovensa has had problems getting paid in the past and the owners are concerned about how to ensure all sides meet their obligations, Lever said. "Right now, we have an outstanding payment of $20 million past due from WAPA," he said. But "if the deal is good and not onerous to any one party, we would be amenable," he said.
WAPA purchases all of the fuel it uses to generate electricity and water from Hovensa, and high electrical costs have led some to call for Hovensa to revise its agreement with the V.I. government and cut its prices. Asked whether the refinery would consider such a reduction, Hovensa spokesman David Roznowski said the refinery sells fuel to WAPA at a loss now, charging about the same as it pays for the raw crude and absorbing the cost of refining it. "We lose $5 to $6 per barrel … we lost over $40 million this year alone," Roznowski said.
Meanwhile, the refinery is working on ways to reduce its fuel costs, and on being as efficient as possible. Earlier this year, the refinery shut down some of its older units, which produced low-demand, low-profit heavy fuel oils. This brought its basic refining capacity down in line with the capacity of its delayed coker and catalytic cracker facilities, which produce lighter, more volatile and more valuable fuels, increasing the refinery's profit potential, Lever said.
"But I don't want to get anyone's hopes up," he said. "I think there is still excess capacity in the market," and as a result it will continue to be difficult to turn a profit in the near term. "We have to control costs and be ready to take advantage when the market conditions change."