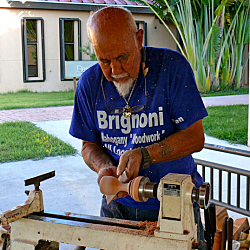 When Bernard Jones puts on the headphones and switches on the music – usually jazz, something by Bob James, perhaps – he begins to feel the flow, and that flow is expressed in his woodworking.
Jones is president of the St. Croix Association of Wood Artists, Inc. His group and the St. Thomas/St. John Woodworkers Society, Inc., opened their annual Woodworkers' Expo Friday in the Great Hall on the University of the Virgin Islands' St. Croix campus.
The show continues from 10 a.m. to 6 p.m. Saturday and 10 a.m. to 5:30 p.m. Sunday. Admission is free – and Jones wants people to know that almost all the handcrafted items are for sale and just in time for Christmas.
People are shopping for gifts this time of year, and despite the economy, "They're looking for things that really mean something," he said.
Jones approach to his wood craft comes from his 45 years as a professional drummer, he said, and the final shape and finish of any individual piece owes much to the sounds pumping through his headphones as he works.
His hands swoop and curl over a piece as he describes the process.
"I'm feeling the flow, I'm riding the wave," he says.
That's one of the pleasures of the woodworkers expo. It's not just being able to pick up one-of-a-kind handcrafted goods made from local mahogany, pepper pod, Lignum vitae and other woods. You can also talk to the artist who made it, who can tell you about how it ended up the way it is, and sometimes even a little bit of the history of the piece of raw wood it started as.
Mahogany is especially important to woodworkers in the Virgin Islands, because the strong, fine-grained wood grows here like nowhere else, Jones said.
"It's the best in the world," he said.
Like many of the other woodworkers n the exhibition, Jones also has a background as a teacher, and like many of his colleagues, he still travels to schools to help teach woodworking classes for the youths.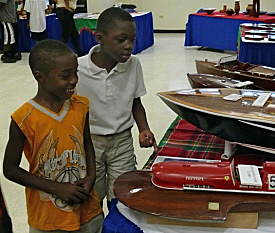 Friday's session was filled with students admiring the work and watching demonstrations of the craft. Further demonstrations will take place throughout the weekend, every hour on the hour.
Three youngsters have gotten a taste for woodworking through the Police Athletic League, where they have learned scrolling. Ricardo Rivera, Ashawn Allen and Jah'Noah Benjamin, all 8-years-old and students at Alexander Henderson Elementary School, were particularly excited about the handmade model boats. They took a moment out of oohing over the model speedboat to explain how, by scrolling, they can turn a piece of wood into a representation of an island.
The artists showing their work at the Sixth Annual Virgin Islands Woodworkers' Expo are: Bien Brignoni, DeRay Sabur, Dean Hodge, Bernard Jones, Maritza Rodriguez, all of St. Croix; and William Johnson, Albion George, Avelino Samuel, Sylvester Jolly, Al Smith, Afreekan Southwell, Harold Shomo, Carol Spinner, Vegan Ellis and Clarice C. Clarke.