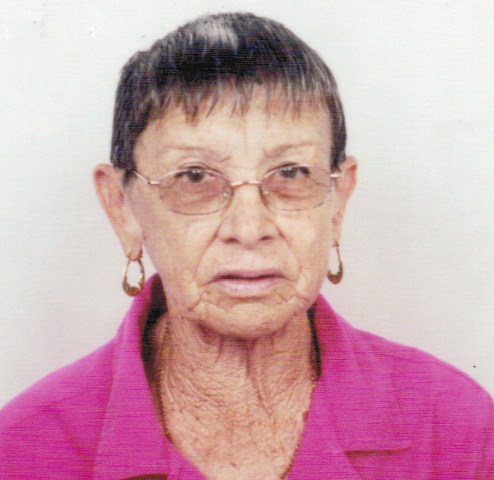 Gloria Trinidad Cruz died at her home on Nov. 26. She was born on Aug. 26, 1938, in Christiansted, St. Croix. She was 73 years old.
She is survived by her daughters: Jacqueline Cherubin Rosa and Shanda Romnarine Cebedo; sons: Alan Alberto Cruz, Joseph Antonio Lindquist and Thomas Molina; grandchildren: Ginelle Lindquist, Yesenia Lindquist, Israel Rosa, Izhani Rosa, Annieleishka Molina, Govind Thomas Molina, Zseniyah Lindquist, Jomar Molina and Alan Enam Cruz; great-grandchildren: TyTiana Johnson, Dejon Gordon and Antonio T. Hunt; daughter-in-law, Myrtelina Harley Lindquist; sons-in-law: Israel Rosa, Alejandro C. Cebedo MD; sisters: Anita Romero, Hilda Cruz, Bedelia Cruz and Nirvia Casas; and brothers: Felix Cruz, Victorino Cruz Jr., William Cruz and Nelson Cruz.
She is also survived by nieces: Diana Romero, Vilma Cruz, Esperanza Gayles, Lilliana Cruz, Rosita Sewer, Milagros Cruz, Grizelle Cruz, Marangeli Cruz Hendricks, Daisy Cruz, Vestali Clifford, Roma Cruz and Clare Casas; nephews: Raymond Romero, Louis Romero, Hilberto Romero, Jesus "Bing" Saldana, Raul Saldana Jr., Jonathan Ramos, Ravi Cruz, Tony Cruz, Luis Cruz, Pastor Felix Cruz Jr., Juan Cruz and Manuel Cruz; aunts: Theodocia Cruz Velazquez and Ines Ramsey; uncles: Guillermo Velazquez, Stephen Velazquez and Juan Velazquez; special friends: Carmen, Xaylanda, Xauskya and Khnyma Simmonds, Luz Allick, Aliyah Allick and family, Maria Christian and family, Henna and William Roebuck, Henna, Angelo, William, Antonio and Anhel Galiber, Christiansted Federal Credit Union and Department of Finance; cousins and other relatives: Cruz, Morales, Velazquez, Ramos, Ramirez and Perez families; as well as other relatives and friends too numerous to mention.
There will be a viewing held from 3-5 p.m. on Monday, Dec. 5, at James Memorial Funeral Home. A funeral service will take place on Tuesday, Dec. 6, at Holy Cross Catholic Church. Viewing, tributes and eulogy will begin at 10 a.m. with service following at 10:30 a.m. Interment will be at the Kingshill Cemetery.
The family is requesting that festive colors be worn as this is a celebration of Gloria's wonderful life.
All arrangements are by James Memorial Funeral Home Inc.