St. Thomas native Dion Parson wants children in the Virgin Islands to be able to follow their dreams and pursue music like he did, which is why he returns quarterly to the territory to mentor them. Music is his passion and his life, and it's something he knows a thing a two or about.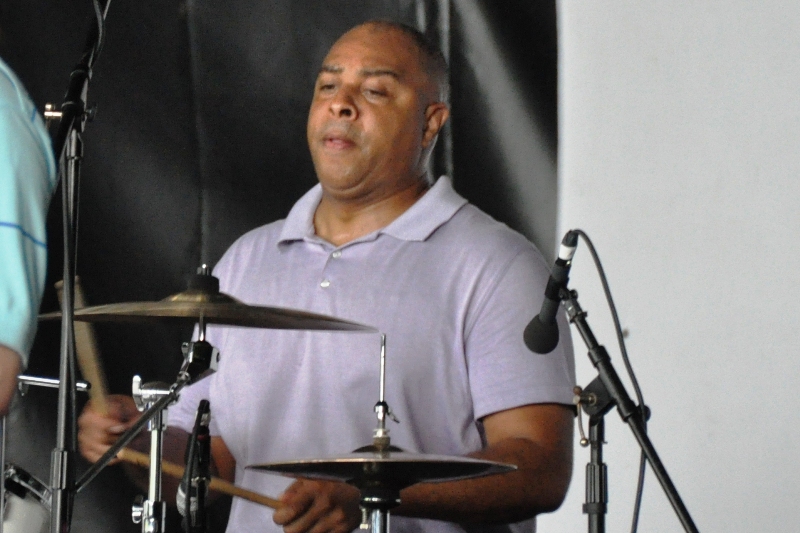 Since 1985, when Parson left the island to go to college for a music education, he has returned every few months to teach kids in the territory.
For years, he did this free of charge, but then he teamed up with the VI Lottery and a number of other sponsors to create his education program, "Mentoring Through the Arts of Music," which brings him back to either St. Croix or St. Thomas/St. John every quarter to serve the community.
Parson, whose tall stature matches his deep rich baritone voice, heads the group Dion Parson & The 21st Century Band, which plays a mix of eclectic upbeat jazz harmonies combined with Caribbean rhythms. All but two of the members are from the Virgin Islands, and according to Parson, the group loves coming back to perform and work with kids.
"It was a need for me, it was the way I was brought up," Parson said. "I was brought up by a bunch of guys playing music and I needed to share that experience with others, so that they can understand what that's like."
Wednesday, the Grammy award winning drummer hosted 300 students for a workshop at St. Croix's Island Center, where the band talked about the importance of team work and making practice count.
"Sometimes the kids just need to hear about the importance of practice and learning," Parson said. "When I left, I was very ill-prepared for college, which is one reason I became a music educator."
Parson said his goal is to guide young musicians to develop their goals in life as individuals and as part of their culture. More importantly, he wants to create a VI Youth Ensemble, which is made up of the most talented high school students on the territory to play at different venues and gigs.
The territory has changed drastically since he grew up, Parson said. He used to go to gigs as a child all the time, he said, and there were always different venues where musicians would play. Now, he's noticed a disparity in the music scene and he's anxious to bring it back.
"We must create venues to enhance the music culture on the island, or else kids will have no platform to play," Parson said.
In addition to teaching the territory's young musicians, Parson's impressive resume boasts teaching gigs at the Conservatories of Brooklyn and Amsterdam, as well as the New Jersey Performing Arts Center. He was also a drummer for the Broadway play "The Color Purple."
"I thought if I can teach workshops all over the world, why would I not teach in my own country, where there's so much talent? The Virgin Islands has an amazing amount of talent here," Parson said.
The mentoring program has already captured part of that talent. A member of Parson's band is a product of his workshop, Reuben Rogers, who plays bass, attended a workshop years ago, and now he's an internationally acclaimed jazz player.
The band is full of talented musicians, comprised of Parson on drums, Rogers, Rashawn Ross on trumpet, Carlton Holmes on piano, Ron Blake on saxophone, Victor Provost on steel pan and Alioune Fay on sabor/djembe/talking drum.
Parson said teaching the talented kids of the V.I. allows him to get better and to hold himself to a higher standard.
"Teaching does a couple of things: it allows me to share the information I have with kids and it also keeps me in check to make sure that I know what's going on," Parson said. "It's a 360 degree circle to give the information to the kids, watch them develop, and then it forces me to follow up to ensure I know what's happening."
Parson said by far his favorite part of mentoring has to be that moment that they take all that they have learned and get up the courage to stand on stage and perform."Watching the kids get up and actually perform after you've taught them is just great – it's an amazing feeling," Parson said.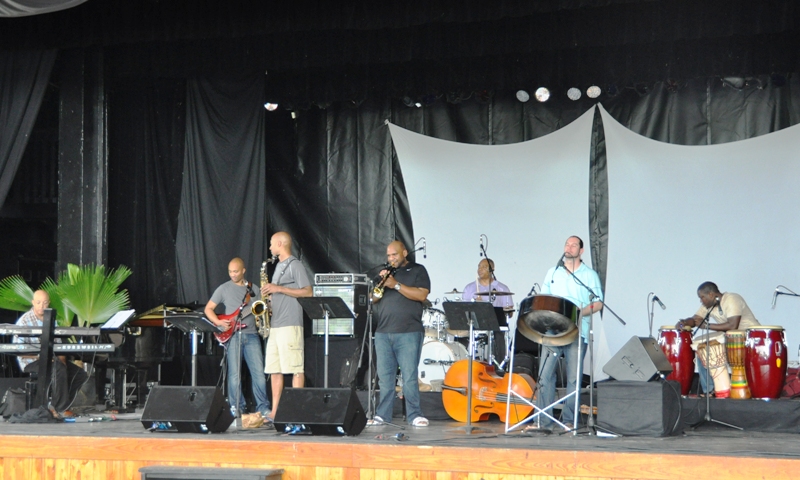 Saturday night, the band performed to a crowd at the Island Center with a tribute to Stanley and the Ten Sleepless Knights, to trumpeter Eddie Russell, and to the youth group, the Quelbe Ambassadors. The concert was sponsored by the V.I. Lottery, Island Center for the Performing Arts, Budget Car Rental St. Croix, Banco Popular, Innovative Communications, Southland Gaming, and Cruzan Rum.
The band will return to the territory and perform a New Year's Eve concert at Yacht Haven on St. Thomas. Details have not yet been released, but will be forthcoming in the next few weeks, Parson said.
Further information on Parson and the band can be found online at http://www.dionparson.com.