Creativity can bring freedom, and that is just as true in life as it is in music, an audience of some 300 St. Croix public school students were told Wednesday by a band of jazz musicians who got their start in the Virgin Islands and have gone on to international acclaim.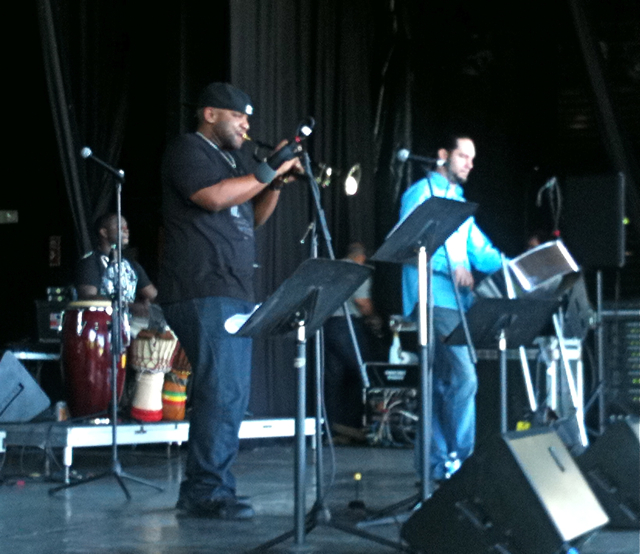 Dion Parson and the 21st Century Band perform this weekend on St. Croix. Wednesday, they took time out to host the students at the Island Center. Besides explaining to the young musicians about the instruments they play, they talked about jazz, the importance of working together, practice, and hard work.
The band included Parson on drums, Rashawn Ross on trumpet, Ron Blake on saxophone, Victor Provost on steel pan, Cliff Finch on electric bass, and Carlton Holmes on piano.
Perhaps the most impressive band member was a guest called up from the audience, Eddie Russell. Russell has played professionally for more than half a century, and was a mentor to many of the members of the band. Today, he works with young musicians at Juanita F. Gardine Elementary School.
Russell provided a direct link between the youngsters filling the Island Center and one of the legendary superstars of jazz, Louis Armstrong.
Russell said he had played trumpet in a calypso band where the brass was definitely just there to back up the singer, who was the star of the show. Then he saw Armstrong perform at a club in Christiansted, and it changed his life.
"I was very impressed with the things he did with his band," Russell said. "That inspired me to pursue trumpet as a solo instrument."
That led Russell to jazz and such greats as John Coltrane, Dizzy Gillespie, and Charlie "Bird" Parker, and the freedom that improvisation brings.
Improvisation doesn't just mean "making stuff up," although it certainly includes that, Parsons said. It means creating – or making up – themes within the framework of the song; inventing new music on the spot that fits together with what the song calls for and the other musicians are playing.
Russell agreed. "Improvisation means you can use your own mind to create something new. When you grow up you can use your own mind and your own imagination to create something great. It doesn't have to be music. You could create a cure for cancer; it could be a way to create world peace."
Because improvisation involves making things up within a framework, it requires both freedom and discipline, Parson said, explaining that there's a difference between rehearsing and practicing.
Rehearsing is when you get together with other musicians and go over material. Practice is when you sit alone and practice scales and notes, over and over, until you master the technique. Practice isn't always fun, but it's necessary because you can't break the rules and take off on musical flights of fancy until you know what those rules are.
Sax player Ron Blake illustrated the point when, during a question and answer session, a very young girl asked why he had "puffed his cheeks out." It's something she had been admonished for, and told him it was bad for him and his instrument.
Blake agreed, telling her that he had always been taught, and today teaches his students, not to do it. The air should come directly from the diaphragm to the instrument, but because he has mastered his instrument, he is able to experiment in ways the teacher in him would disapprove of.
"Puffing his cheeks" gives him a more mellow sound, he said, just as slapping the keys sharply instead of pressing them more gently gives him a more percussive sound. It's a matter of knowing how to play, knowing what effect he wants to achieve, and knowing how to get it.
At 7 p.m. Saturday, Dion Parson and the 21st Century Band will perform at the Island Center in a tribute to Stanley and the 10 Sleepless Knights and trumpeter Russell. The concert is sponsored by the Virgin Islands Lottery, Island Center for the Performing Arts, Budget Car Rental St. Croix, Banco Popular, Innovative Communications and Southland Gaming, and Cruzan Rum.
Tickets are $40 for reserved seats, $25 for general admission, and can be purchased on St. Croix at Urban Threadz, Riddims, and UVI Bookstore. On St. Thomas tickets can be purchased at Urban Threadz, Essentric Shoe Boutique, V.I Bridal & Tuxedo, Home Again, and UVI Bookstore.
Tickets are also available at Reichhold Center Box Office at (340)-693-1559 or online at
reichholdcenter.com.