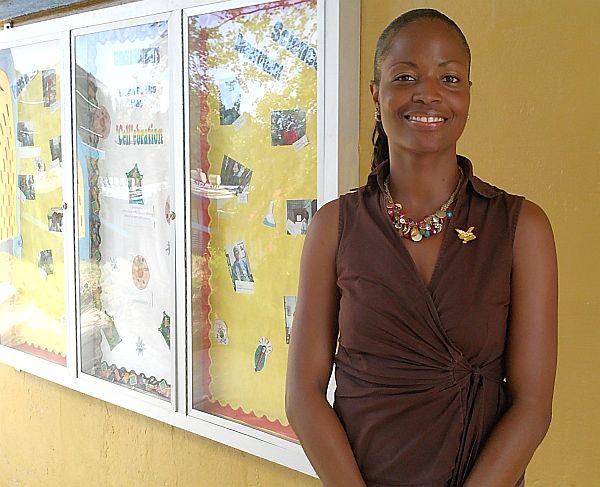 Charlotte Amalie High School Science Department Chairwoman Nneka Howard-Sibilly has been named St. Thomas-St John District's 2012 teacher of the year, the V.I. Education Department announced last week.
After graduating from Charlotte Amalie High School in 1994, Howard-Sibilly went on to earn a bachelor's degree in Biology and a master's in Science Education before coming back to the territory in 2000.
She immediately started working as a General Biology teacher at CAHS and climbed the ropes of the Science Department, which she now chairs. Also serving as the school's AP Biology teacher, Howard-Sibilly says her teaching philosophy centers on keeping students active.
"Children should be doers," Howard-Sibilly said in the Education Department release. "Not just sitting in a classroom all day – they have to be active components in the teaching process. There has to be some kind of movement for true learning to take place," she said.
Student teaching, integrating more technology-based instruction into her courses and teaching outside of the classroom are just a few of the methods Howard-Sibilly employs daily to keep students engaged. According to CAHS Principal Carmen Howell, Howard-Sibilly's methods have proven effective, with 60 percent of juniors showing proficiency in science on the V.I. Territorial Assessment of Learning exam for 2011.
"Last year we decided that we wouldn't wait until test time to prepare," Howard-Sibilly said. "This time around, we gave the students a pre-test the first semester, looked at the deficiencies, and focused on improving those areas throughout the year."
Howard-Sibilly said she was "humbled" and "honored" to receive this year's award, and applauded all the other local teachers who continue to dedicate themselves to student achievement.
"Being Teacher of the Year, this is something that we all aspire to," Howard-Sibilly said. "It shows us that there is so much we could be doing in terms of performance to get our students to where we want them to be. This serves as a platform for others to take stock of what they are doing, and look at how they can improve."
Howard-Sibilly was part of a pool of seven teacher of the year finalists, who were each nominated by their respective school principal and members of the faculty, according to a statement from Education. Generally, once the nomination is announced, the candidates then go through a rigorous application process, which scrutinizes their academic backgrounds, accomplishments, teaching platform, and community involvement activities, among other things.
The applications are then reviewed by a panel of judges made up of administrators from the Insular Superintendent's Office and a representative from the Board of Education. District officials said that this year, Howard-Sibilly was the clear frontrunner during the evaluation process, impressing the judges with her academic accomplishments, teaching methods and continuous dedication to both her students and her craft.