An array of purple lined the streets of Christiansted Thursday; nearly 200 people holding candles marched down King Street to show their solidarity with victims of domestic violence.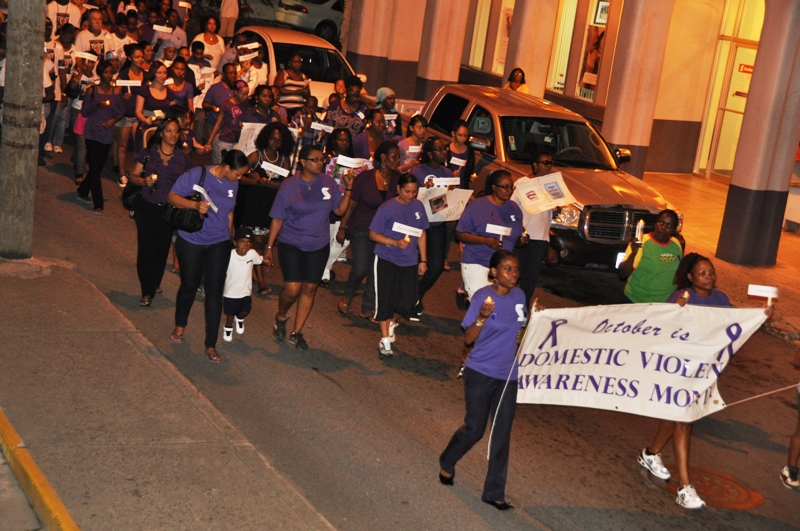 For thirty years now, the St. Croix Women's Coalition has held the annual "Take Back the Night" march to bring awareness about domestic violence and its toll on the community.
Women, children, and men rallied at Market Square just after 6 p.m. to begin the short march down King Street with candles and signs of the 62 women killed from domestic violence in the last 30 years.
Every seven seconds a bell rang out to signify how often a woman is battered.
While 95 percent of domestic violence victims on St. Croix are women, there are still domestic violence crimes which affect men.
A whole family showed up this year to walk in remembrance of James Gaston, who was killed by his girlfriend earlier this month. She admitted to lighting him on fire after gasoline had spilled on him; he died of his injuries a few days later.
"I'm totally against domestic violence, in fact, 30 years ago I got arrested for it, and since then, I've never seen it again," Gaston's stepfather, David Wyant said. "People need to recognize that men are victims too."
The crowd marched silently down to Fort Christianvaern by the waterfront where they gathered to listen to poetry, music, and speakers in remembrance of the lost victims.
This year has been exceedingly difficult for the Women's Coalition. An electrical fire nearly burned the entire crisis center, forcing them to move temporarily to the Alice Pfaelzer Children's Center while awaiting the new building to be complete.
On Sept. 19, the new center still under construction was vandalized and all its copper wiring was ripped from the walls. The following day, they lost over half their funding from the government – 55 percent – which is used for administrative expenses to run their services.
Despite the hardships, co-director Mary Mingus wiped her eyes as she told the crowd how moved she was that so many people showed up.
"I'm happy that despite everything, through the fire, vandalism, and the budget cuts with still no insurance settlement, that so many people are here to support us," Mingus said. "I'm so proud that we will continue our work and it gives us faith to continue with all these people working behind us."
Mingus recounted how the march began 30 years ago, and said it started with only 10 to 12 people walking down King Street with men booing and degrading them as they walked by.
"We were looked upon then as the enemy, but the beauty is that people understand now," she said.
Clema Lewis, also a co-director of the Women's Coalition spoke passionately "It's important for us to remember that we are all one – we drink from the same water, we breathe the same air… We need to be one love."
A long row of shoes lit up with candles represented the 62 victims killed and the loss of each life. Nearby, a clothesline of t-shirts was on display where survivors and victims of domestic violence and abuse had painted and drawn messages.
After St. Croix resident Josefina Cruz gave a speech in Spanish, Mingus interrupted briefly to recognize the Gaston family.
"I want to make something very clear – that we are against all forms of violence and our sympathy and prayers are with you," Mingus said. "It's a sad fact that 95 percent of victims are women, but this does not mean that when a man is murdered that we do not have the same feelings."
After Cherise King sang a song called "Invisible" a cappella, Josefina Cruz, Judy Fyfield and Nikki Lucas read over the list of deceased victims.
As each name was read, the person in the crowd holding their sign lifted it high above their heads, until all 62 were named. When they were complete, a stillness fell over the crowd and several people could be seen wiping their tears. A banner with names of the victims was strung across the gazebo and the path of shoes remained lit.
St. Croix resident Velma Farrelly-Dunbar, mother of Nefertiti O'Bryan, a victim who was shot in May of last year, choked back tears as she plead with the crowd to take action instead of remaining silent if they suspect someone is being abused.
"The chance you take is a chance for the rest of your life that will be in your mind and heart until you leave this earth," Farrelly-Dunbar said. "Act the part and do something for that loved one that would prevent something."
Senators Sammuel Sanes and Terrance "Positive" Nelson were at the event to show their support, and Sanes stayed throughout the entire event because he lost a friend a few years ago to domestic violence.
At the end of the night, the crowd gathered in a large circle encompassing almost the entire park and joined hands while each person counted off with a number and the phrase "I care." A total of 176 people were at the park, but that didn't include several who had left after the march.
Gov. John P. de Jongh Jr. proclaimed October as "DomesticViolence Awareness Month" in the Virgin Islands to confront a social ill that the Centers for Disease Control has called "an urgent and costly public health crisis."
Domestic violence encompasses the crimes of rape, incest, child sexual assault, ritual abuse, assault, battery, sexual exploitation, sexual contact, harassment, bullying, exposure or voyeurism. Those crimes can be perpetrated by anyone from a school teacher to a coworker, from a religious leader to an athlete, from a date to a family member.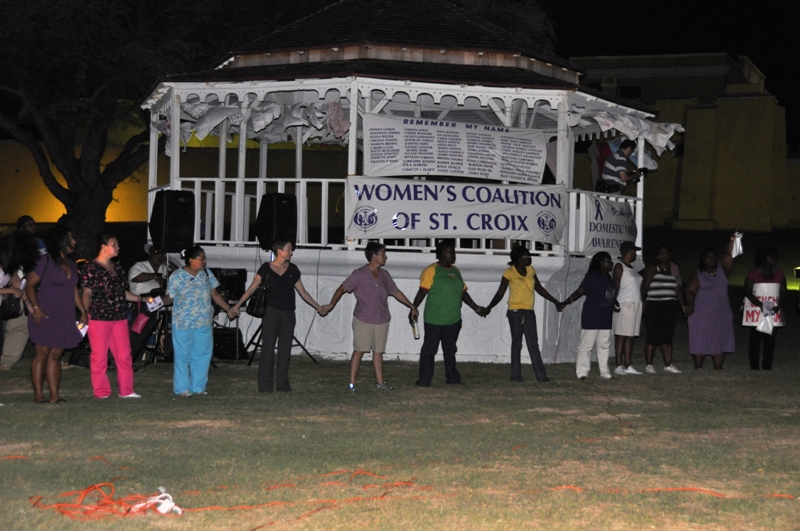 "I've been coming to the event for years, but unfortunately a few years ago it hit home when I lost a friend," Senator Sanes said. "I'm here to honor her memory and to be a support to all the loved ones who have lost their lives because of domestic violence."