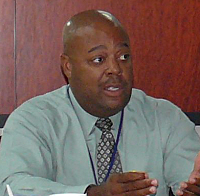 The V.I. Water and Power Authority Governing Board voted Friday to extend its $10 million Banco Popular line of credit until year's end while WAPA negotiates a larger one to allow it to purchase more fuel before being reimbursed.
"This extension will help the authority better manage its cash flow situation by having more capacity as we deal with the fluctuations in fuel; namely our ability to pay Hovensa on a timely basis," said WAPA Chief Financial Officer Joseph Boschulte during the meeting. After the meeting, Boschulte explained the line of credit allows WAPA to take care of sudden cash needs. Importantly, the credit gives WAPA a fiscal cushion, to buy fuel before receiving payment, according to Boschulte.
When oil prices go up, the Levelized Energy Adjustment Charge, or LEAC fuel surcharge is set to recoup the increased fuel costs over the course of six months or a year. But WAPA must still pay for the fuel, months before it receives the cash with which to pay, so it must pull resources from other parts of the utility to make up the difference, according to Board Chairwoman Juanita Young.
"Oil is bought from Hovensa in month one to produce electricity. Customers are billed in month two. Customers then pay in month three, but the Authority must pay Hovensa sometime between the end of month one and the end of month two," Young said.
The existing line of credit has acted as that cushion, but was negotiated and set back when oil cost $30 to $40 per barrel, said WAPA Executive Director Hugo Hodge Jr.
"Because the price is now almost three times the amount it was at that time, it's important we increase the working capital limits to ensure we have the flexibility to work under the current conditions," Hodge said.
The board also voted to approve extending the term of WAPA's $3 million fuel hedge program line of credit until the end of the year. Both lines of credit expired over the summer, according to WAPA.
The fuel hedge program helps to insure against sudden, extreme increases in fuel prices by purchasing a complex investment instrument where the seller pays the difference if prices go up more than a set cap, but gets paid the difference if prices drop below a set floor. Under the fuel hedge program, WAPA is protected against short, sudden spikes in fuel costs, but does not benefit if there is a sudden sharp drop in fuel prices. The market for these sorts of instruments is not very favorable at the moment, so no hedge arrangements are currently active, but it is important that WAPA be ready if a hedge is needed, according to Boschulte.
Meanwhile, credit terms will remain the same, said Hodge. "It's just a time extension to allow for the rest of the work to take place," he said.
Board members present were: Young, Gerald Groner, Noel Loftus, Donald Francois, Licensing and Consumer Affairs Commissioner Wayne Biggs and Energy Office Director Karl Knight. Planning and Natural Resources Commissioner Alicia Barnes, Cheryl Boynes-Jackson and Brenda Benjamin were absent.