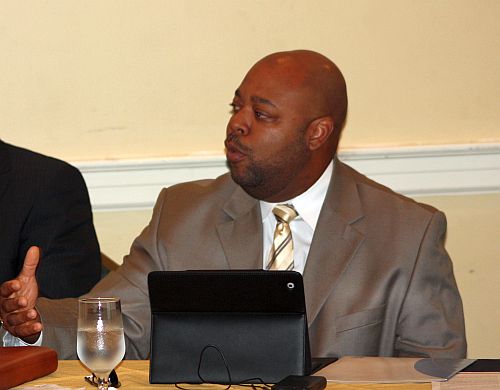 Utility representatives from 17 different Caribbean nations converged on St. Thomas' Sugar Bay Resort this week for a conference that was for the first time strictly focused on green energy.
The Caribbean Electric Utility Service Corporation's (CARILEC) annual events are generally geared toward a wide variety of topics dealing with energy, but following the organization's new mandate to "go green," this one gave its members an opportunity to look at their energy challenges and pair them with renewable energy solutions.
"It is great for us to see electric utilities that have traditional business in heavy fuel and oil coming to focus on renewable energy," said Alison Pascal, from CARILEC's marketing and membership services division. "And this is one of the mandates of CARILEC as an organization: that we should focus on a more sustainable way to generate energy. This is the way our organization wants to move and energize our member utilities."
Pascal said that utility representatives came in from islands ranging from Nevis to the Bahamas, forming a group that was made up of chief executive officers, legal counsels, financial advisors and engineers, along with renewable energy vendors that were available to discuss their latest technology.
The keynote speaker for the conference was Basil Ottley, the territory's field representative for the U.S. Department of Interior's Office of Insular Affairs, who discussed the changing role of utilities in a market where the switch to alternative energy is becoming more and more necessary.
"This is a very important step for CARILEC to take, because I think that many in the public discourse don't feel that the utilities are seriously considering renewable and alternative forms of energy, but I think the fact that you have all the utilities coming together … shows that what's said in the public is far from the truth, and that there is a seriousness about making that transition to a more environmentally friendly source of energy," Ottley said after the conference.
In his speech, Ottley said that with the financial collapse of countries across the world and the constantly rising cost of oil, the days of cheap energy are long gone. Utilities now have to adapt and look at partnering with customers within their communities to change their habits and bring down consumption.
"For small island states like ours, the question that we have to start asking ourselves is how can we be resilient, how can we create the local infrastructure and capacity to sustain ourselves against external shocks we know are going to be coming," Ottley said.
One of Wednesday's wrap-up sessions featured a full panel of experts that fielded questions from the audience about new movements in the energy field. V.I. Water and Power Authority Executive Director Hugo Hodge Jr. discussed the territory's efforts to interconnect with Puerto Rico, and how it could possible fit in with "the big picture" of what is going on elsewhere in the Caribbean.
Hodge said throughout the conference that he was able to get some insight into how the territory can expand its energy efforts by taking into consideration what other islands are doing, and the challenges they face. Wind farms on some of the smaller islands are having issues with fluctuating wind speeds, and Hodge said Wednesday that the territory can tap into some of that data to see what can be done.
"Everyone is having issues with the cost of energy right now, but it feels good to see that the territory is leading in some fashion, and that we're getting we're getting the response from the rest of our neighbors and peers that we want to see," Hodge said, adding "We'll continue to push to be that leader and help our people here and by helping our people demonstrate to everyone else what can and cannot be done."