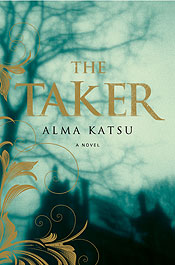 Here is where you will find what's new at St. Thomas's well-known Dockside Bookshop at Havensight Mall. Every week you will find new titles to peruse. Look for updates of our "picks" for fiction and non-fiction.
"The Complete Bookshop"
Mon., Wed., Thurs, Sat. – 9 a.m. to 5 p.m.
Tues. and Fri. – 9 a.m. to 6 p.m.
Sun. 11 a.m. to 3 p.m.
774-4937
Dr. Sandra O. Harrigan will be signing copies of her book "Remembering Family: A Crucian Soujourn" from 10 a.m. to noon on Saturday, Aug. 27, at Dockside Books.
BOOK PICKS
"The Taker" by Alma Katsu
"This is a great book. And by great, I mean devastatingly so, like reading The Scarlet Letter, while riding a roller coaster, on acid. Seductive, daring, soaring and ultimately gut-wrenching, The Taker is a lush, historical rendering of transcendent love, paranormal beings, and the depths of pain that can be felt by immortal hearts." —Jamie Ford, New York Times bestselling author of Hotel on the Corner of Bitter and Sweet
"Heartwishes" by Jude Deveraux
Gemma Ranford wants the job cataloging the documents of the Frazier family so much that she is ready to do battle to get it. Fascinated with history and desperately trying to finish her dissertation, she's hoping against all hope that the papers will yield new information to invigorate her research.
What she didn't expect to find is references to the Heartwishes Stone – believed by most to be pure legend and said to grant wishes to anyone named Frazier. As Gemma learns more about the family — and even begins falling in love with the eldest son, Colin — it becomes increasingly clear that their wishes are actually coming true.
Together, Gemma and Colin must work together to find the stone that's been missing for over one hundred years — and with an international thief also on the hunt, the clock is ticking. Because in the wrong hands, no one named Frazier will ever be safe.
"Retribution" by Sherrilyn Kenyon
$25.99 (Dark Hunter Series)
A hired gunslinger, William Jessup Brady lived his life with one foot in the grave. He believed that every life had a price. Until the day when he finally found a reason to live. In one single act of brutal betrayal, he lost everything, including his life.
"Bloodmoney" by David Ignatius
Although her last outing nearly got her killed, CIA field operative Sophie Marx is eager to get out of the office again. She gets her chance with a dangerous assignment: She's charged with tracking down the source of a leak that has gotten four agents killed. What she uncovers leads to Pakistan and Afghanistan, but also to a wheeler-dealer on her own side. Once again, David Ignatius (Body of Lies; The Increment) delivers the goods with a realistic foreign intrigue thriller.
"Disintegration"by Eugene Robinson
From Pulitzer Prize-winning columnist and commentator Robinson comes a paradigm-shifting book about race in America. He argues that, through decades of desegregation, affirmative action and immigration, the concept of black America has shattered. Now, instead of one, there are four distinct groups.
"Fifth Woman" by Henning Mankell $7.99
"American Assassin" by Vince Flynn $9.99
"Heart of the Matter" by Emily Giffen $7.99
"Bedazzled" by Stephen Hunter $9.99
"Jayne Castle" by Jayne Krentz $7.99