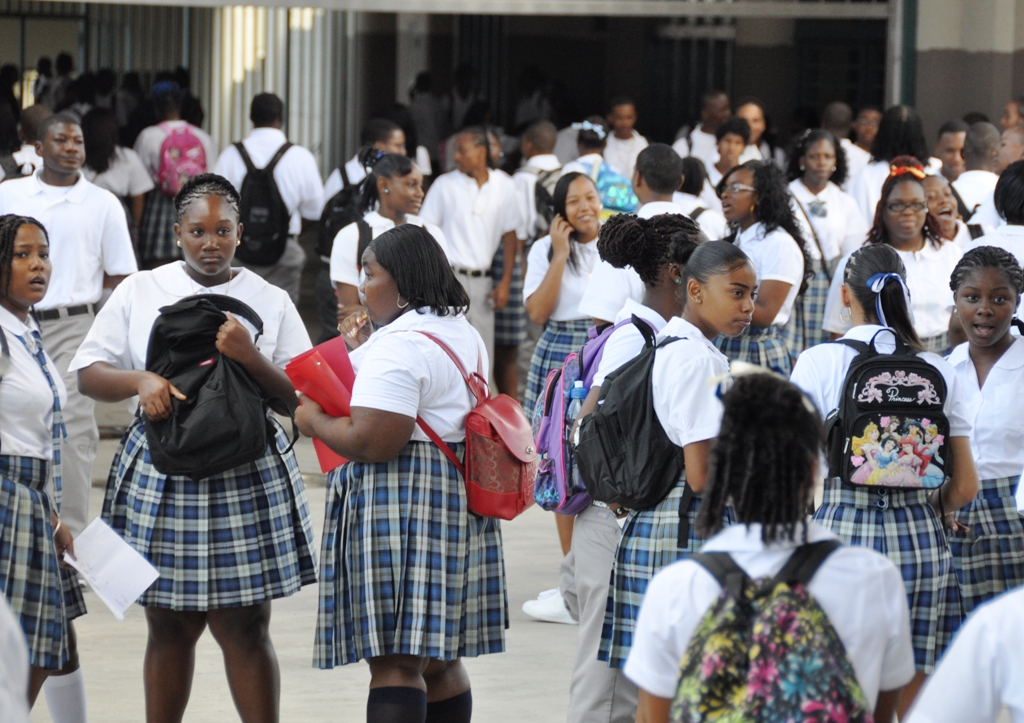 The first day of school all across St. Croix went smoothly with the exception of a minor hiccup at St. Croix Educational Complex, where some students were told to go home and return Tuesday due to scheduling difficulties.
As children from first- through 12th-grade piled happily into schools, they began to line the halls and gymnasiums to get their schedules printed for the year. A few Complex students waited outside on the curb for their parents to come and get them after they were told to return Tuesday.
"They said there were too many kids and that we gotta go home 'til next Tuesday," one ninth-grader, who was almost in tears said.
Principal Willard John said that there were some scheduling difficulties that occurred over the last few days.
"We had our staff call all the parents yesterday to inform them to come Tuesday; but some students didn't get the message, and those are the students we had to send home," he said.
However, elsewhere across the island, things appeared to go effortlessly, and principals welcomed students warmly.
Students seemed to accessorize in any way possible to spruce up their uniforms. From new backpacks and thick gold chains to bright sneakers and matching ties, kids beamed everywhere with the thrill of starting school.
Elena Christian Junior High Principal Carlos McGregor was excited to see that students were adhering to the school's new slogan: "Every minute counts, be on time every time," and greeted every parent and student with a broad smile and handshake or hug.
"It's been wonderful this year, and everything has goon smooth—by 7:30, all students had schedules and were in class," he said.
One seventh-grader, Shamoi Buffong, was eager to start the new school year at a different school and was prepared for anything.
"It's fun; I like science and I want to learn more about it," he said smiling.
Principal Chermain Johnson, who transferred from Central High school to Juanita Gardine Elementary, said that the morning went beautifully and that she's looking forward to improving the school culture and scores throughout the year.
"We have a fantastic team of teachers who are willing to accept the change and challenges we will be facing this year," she said, "Our motto says it all, 'Great staff, great students, great parents.'"
In the auditorium, a few-dozen kids and parents milled about filling out registration forms for new and transfer students.
Lisa Lake, a mother of two students attending Juanita Gardine, was looking forward to taking a break after the summer.
"I'm excited to get them out of the house to do some learning," she said.
Central High School was packed with over a thousand students, and by 10 a.m. there will still a few dozen that were waiting on class schedules.
New principal Janasee Sinclair said that they were slightly delayed because many students didn't attend orientation.
"We're moving right along though," Sinclair said. "This year our theme is to empower students to take ownership of their education process. They have a say and a voice, but they also have to participate."
Sinclair also said that she was feeling the stress of losing a few teachers who opted to take early retirement this year, but said that they are adjusting and trying to fill those vacancies.
Kent Moorhead, principal of Claude O. Markoe Elementary, echoed the same worries about retirement.
"We lost two people to retirement, but we're making adjustments; and although it's hard, we are trying to consolidate but want to avoid big class sizes," he said.
Despite those setbacks, Moorhead was eager to begin the new school year.
"We had approximately 280 kids that came in with parents, and the teachers are all excited and ready to go," he said.
Complex Assistant Principal Cheryl Ross said that they were losing five teachers to retirement this year, which forced them to play catch-up in trying to fill those spots.
"We were on top of it beforehand," Ross said. "Some did volunteer to come in from retirement during the transition, but we're looking for teachers all the way from science to prevocational."
Lt. Gov. Gregory R. Francis toured both Central High School and the St. Croix Educational Complex and thought both visits went well.
"The teachers and students have all been upbeat and positive," Francis said. "What I want to get across to the students is that the main purpose of school is for education."