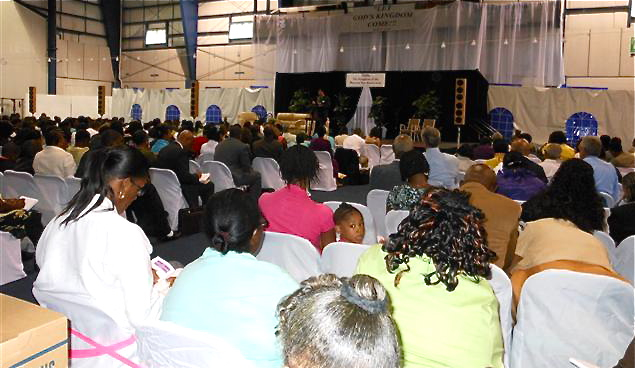 The pioneering spirit of Jehovah's Witnesses in the Caribbean started in the late 1940s when the schooner Sibia sailed into the U.S. and British Virgin Islands waters bearing missionaries to these shores.
For several years the Sibia was a floating missionary home, calling from island to island to give lectures, witness to the locals and hold Bible studies.
This weekend more than 800 Jehovah's Witnesses gathered to celebrate and reflect on that pioneering spirit at the annual District Convention – titled "Let God's Kingdom Come" – at the Mark Marin Center at Antilles School.
Folks poured into the center Friday morning – women in their finest satins and silks, men in handsome, well-pressed suits, many carrying hand embroidered cushions for bleacher seats, many trailing large families, the children well behaved, sparkling in obviously new outfits for the occasion.
The pioneering spirit enforces the Witnesses public ministry, their mission to take their message into people's homes, knocking on the door, boldly offering their beliefs along with a copy of "The Watchtower" or "Awake!" – their main publications. According to the Witnesses' website, they have the largest Bible-based circulation in the world, with a distribution in 419 countries.
There are more than 7.6 million Witnesses throughout the world in more than 107,000 congregations, according to the Witness website.
Witnesses believe that the earth will remain forever, and that all people, living and dead who will fit in with Jehovah's purpose for a beautified earth may live on forever. This is the good news they want people to hear. What they preach is a way of life to attain this kingdom.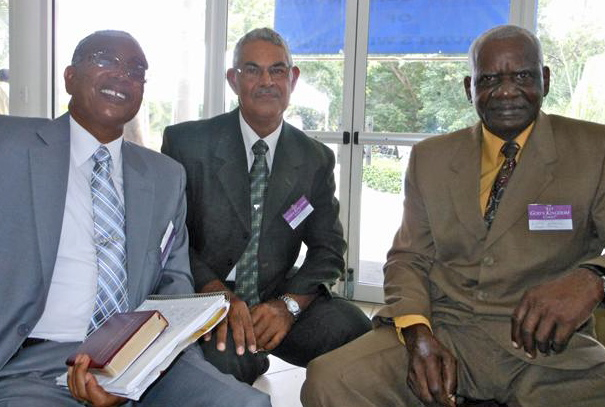 Noel Lewis, St. Thomas convention officer, described some of the convention activities, which include drama –he is, in fact, directing a skit called "These Words Must Prove to be on Your Heart" – symposiums on subjects ranging from "Our Imperfect Flesh," to humility, and a Bible discourse on "Will Humans Ruin this Earth?'
Lewis was joined by Alton Elliott of St. Croix, and Liston Williams of Tortola. All three were originally from Jamaica.
Elliott says his St. Croix congregation now numbers about 700.
"In 1969, we had one Spanish group and two English. Now," he says with pride, "we have three English and two Spanish- speaking groups."
The St. Croix ministry was established a bit before St. Thomas got started in the early 1950s.
Williams says the British Virgin Islands has about 254 members, including a small group on Anegada.
The St. Thomas ministry numbered 645 last year. The individual groups include one Spanish, three English, a French Creole, and sign language. Lewis says they meet Sundays and several nights a week for Bible studies, public talks, and studies of the "Watchtower" magazine.
All of the Witnesses' public gatherings focus primarily on the teachings of the Bible and its central message about the theme of Jesus' ministry, namely, "the kingdom of God," in harmony with the biblical reference at Luke 4:43.
The men were quick to follow their statements with biblical references.
"Everything is in the Bible," they agree.
The Witnesses do not tithe; they exist on volunteer contribution, nor do they fast.
"We don't fast, or follow a strict diet, William says. The Witnesses don't smoke, and the Bible condemns drunkenness, they say.
"Of course, back then nobody smoked," Williams says, "but smoking is not clean, and it's habit-forming
They all agree that an occasional glass of wine with dinner does not mean drunkenness.
Lewis says there are no observed "holy days." "Every day is holy," he says. Also, there is no one person who is almighty in the congregation. "We have governing boards, but Jesus Christ is our leader."
Though Elliott and Williams were brought up as Witnesses, Lewis has a different story to tell. Though raised as a Baptist, he says, "When I graduated from Morgan State University in Baltimore, Md. in 1973, I set out on a search for truth. I studied everything from TCM (transcendental meditation), to Buddhism to Hinduism, with all its gods. I had a neighbor who was a Buddhist and we discussed that. I didn't consider myself a Christian until a Witness came to my door, and I started my Bible studies that I became a Christian, because Christ overcame death. He was resurrected. That validated everything for me."
He continues, "I began my studies to prove them wrong, and discovered they were right. I didn't know that God had a name, Jehovah. It began to open my mind. He had a name; I could become his friend."
That was in the 1970's. Lewis had moved back to Jamaica, when a friend invited him to St. Thomas.
"I was already a Witness," Lewis says, "and I knew just that one person here, but I immediately had brothers and sisters."
Lewis is a retired businessman with a family, but he serves his larger family every day.
"We are all evangelicals," he says. "We go door to door, five to seven days a week."
He says with a gentle smile, "I serve a happy god."