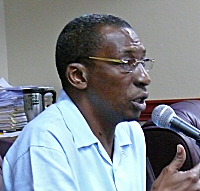 Appearing before the Legislature for the first time since his confirmation as V.I. Fire Service Director two weeks ago, Steve Brow told the Budget and Appropriations committee Friday excessive overtime is one of the department's major burdens.
The fiscal 2011 overtime budget was $494,000, but by the end of May, firefighters had accrued $1.1 million in overtime. In fiscal 2010, actual overtime was $1.6 million, but only $544,000 was allotted. Salaries for vacant positions made up the shortfall, Brow said.
The high overtime is due to manpower shortages, he said. Some 44 firefighters, mostly ranking officers, have retired since 2007. Another 20 firefighters are in the National Guard Reserves and have been deployed, he said. Positions left empty due to personnel on active military duty are more problematic, Brow said, because their jobs may not be filled while they are away.
"How do you plan to deal with overtime costs this year?" asked Sen. Usie Richards.
"We have been in discussion regarding bringing the (station) manning level down to 22, and if someone is out, whether on leave or overseas, sidelining that unit," said Brow. "And also having a callout list (to call onto duty) in the event of something big happening," he said.
Brow and staff were before the committee to defend the V.I. Fire Service's proposed 2012 budget of $18.4 million. That sum is a decline of $1.3 million from the prior year and is the second year in a row of reductions. The agency expects to receive another $45,000 from the miscellaneous section of the budget and $540,000 in local funds generated by fire inspections and other services, according to the Legislature's post audit report on the Fire Service's budget.
Ninety-six percent of Fire Service's budget goes for salaries and benefits, Brow testified.
Unlike most agencies, Fire Services did not receive an additional across the board budget cut this year, Brow said. Under the terms of the economic stabilization act passed in June to resolve a major budget shortfall, salaries of all executive and legislative branch employees are to be cut by eight percent, so long as they are not cut below $26,000 annually. That cut will reduce Fire Service's salary costs and budget accordingly.
No votes were taken at the information-gathering hearing. Present were: Sens. Carlton "Ital" Dowe (chairman), Janette Millin-Young, Sammuel Sanes, Patrick Hill and Shawn-Michael Malone. Sen. Usie Richards, not a committee member, was also present. Absent were Sens. Nereida "Nellie" Rivera-O'Reilly and Celestino White.