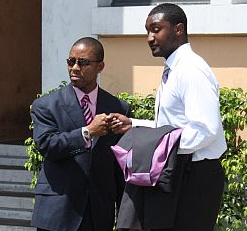 Jubilant shouts of "home, home, home," echoed in the hallway as jurors deliberating the case against former Schneider Regional Medical Center officials Rodney Miller Sr., Amos Carty Jr. and Peter Najawicz handed in their verdict papers and prepared to pack up after sitting through a month and a half of grueling testimony, without reaching a verdict.
But back in the courtroom, nothing spoke of celebration, as defense and prosecuting attorneys mulled over the jury's decision, planned their next moves.
Just minutes before their exit, V.I. Superior Court Judge Michael C. Dunston announced that jurors had not been able to come to a consensus on any of the 44 charges facing the three men, leaving him with no other choice but to declare a mistrial. Jurors had been deliberating for nearly a week after the case wrapped, and Dunston said Friday it appeared that the deadlock would not be solved by any more time in the jury room.
Jurors initially appeared to have reached a verdict late Thursday afternoon, but were sent back into deliberations after there appeared to be a problem with the verdict forms.
"We were told that there was a verdict, but later, it appeared that there was no unanimity from the jury on any of the charges," Carty defense attorney Anthony Chambers said Friday afternoon. No further explanation was offered as to whether the forms were filled out incorrectly, since Chambers said that they were not allowed to see the documents.
Friday afternoon, however, the most common word used by the attorneys to describe the verdict was, "disappointing." While thanking the jurors for their service, both sides said they thought there was enough evidence in the case for a "guilty" or "not guilty" decision to be made. Miller, Carty and Najawicz stood accused of conspiring with one another to defraud the hospital of millions of dollars, which they siphoned off from the hospital's bank accounts for their own private use, the prosecution has contended.
A gag order has been in place throughout the trial preventing any of the attorneys or court officers from talking to the media. But with the verdict in, and the jury dismissed, most everyone was prepared to talk, except for Miller defense attorney Alan Teague, who offered a polite but firm "no comment."
Chambers, however, said that he would be prepared to go through the entire case again if that was the government's decision, but suggested an audit be conducted to see if they could afford it and whether it would be worth the same kind of expense to bring his client back into court. At this point, Chambers added, Carty's reputation has been ruined, and he has spent enough time and money defending himself since his arrest three years ago.
"We do hope, if there is a next time, that the jury would return a verdict of not guilty," Chambers said.
Najawicz defense attorney Robert King Sr. said he was hoping for an acquittal this time around, and added that the government did not put on any evidence to support the charges against his client.
"I am deeply disappointed, because the prosecution failed to prove Mr. Najawicz did anything that was alleged in these charges," King said. "I thank the jurors for their service, especially those who wanted to see him acquitted, but I am deeply disappointed with those who did not."
Prosecuting attorney Denise George-Counts also offered up her thanks to the jury Friday, but said that while they had made their decision, the government will be retrying the case.