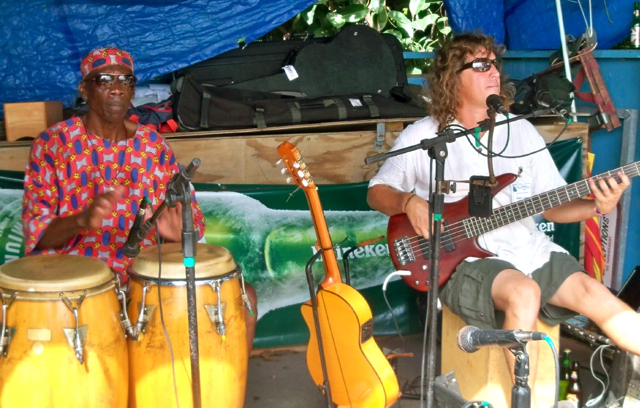 Janelle Schindler, a co-founder of Reef Jam, looked out over Rainbow Beach, Sunday afternoon and saw a beach as crowded as one would expect Coney Island Beach on a Memorial day weekend.
"It is awesome," she said. "I think we have grown to capacity."
There was music and dancing, but the focus was educating children about the value of the coral reef. This year, the fourth incanratuon of the annual event had mre than just the educational booths staffed by such groups as the the St. Croix Environmental Association, East End Marine Park, the Energy Office, and the Recycling Association. Reeftivity featured a tent dedicated to hands-on education programs for youngsters, including dissections of squids and an exhibition of recently killed lion fish, with a talk from William Cole of the Division of Fish and Wildlife about the damage this invasive fish might cause the Virgin Islands.
Zak Orr, a native Crucian who studied marine biology, dissected the squid for about a dozen rapt youngsters.
"I remember doing things like this when I was a kid. It was nice to be able to give back a little," Orr said.
The Recycling Association took advantage of the party atmosphere to not only get out its message of the importance of recycling, but also to raise some funds. For $5 they were selling a refillable mug made of recycled materials. The association has an agreement with 12 St. Croix bars to give customers who use the mug a discount on their drinks. The nearby Rhythms bar offered a dollar off any drink when the recycled mug was used.
The Energy Office had a display of how energy could be harvested from ocean waves, ocean tides, ocean currents and ocean temperature differences.
A newcomer at the Reef Jam was Teres Veho, which offered lessons and races for those willing to get acquainted with Stand Up Paddle Boarding. Bill Ruggiero, one of the owners the business that started last November and operates out of Cottages by the Sea, said he was impressed by the participation at Reef Jam.
His business will sponsor the Stand Up Paddle for the St. Croix East End Marin Park on Sept. 4. All funds raised from these races will go to the East End Marine Park. For more information about the races can be obtained by calling Marija Micuda at 718-3367.
Proceeds from Reef Jam will benefit local coral reef education and conservation efforts on St. Croix in the form of a grant program. Last year the jam drew more than 1,000 attendees and raised more than $10,000.
Janelle Schindler and her husband Kurt founded Reef Jam in 2008 during International Year of the Reef.
"Living on an island, every single one of us is affected by the health of our reefs," Schindler said. "This event is to celebrate the incredible resource that surrounds us and gives us life."
Reef Jam 2011 was sponsored by Hovensa, Bellows International, Heineken,
Spencer Ocean Services, Ye Cottage Feed Shop, H&H Tire, Rhythms at Rainbow
Beach, Kurt and Janelle Schindler, Melanie L. Feltmate. It receives fiduciary services from the Virgin Islands Resource Conservation & Development Council, Inc.