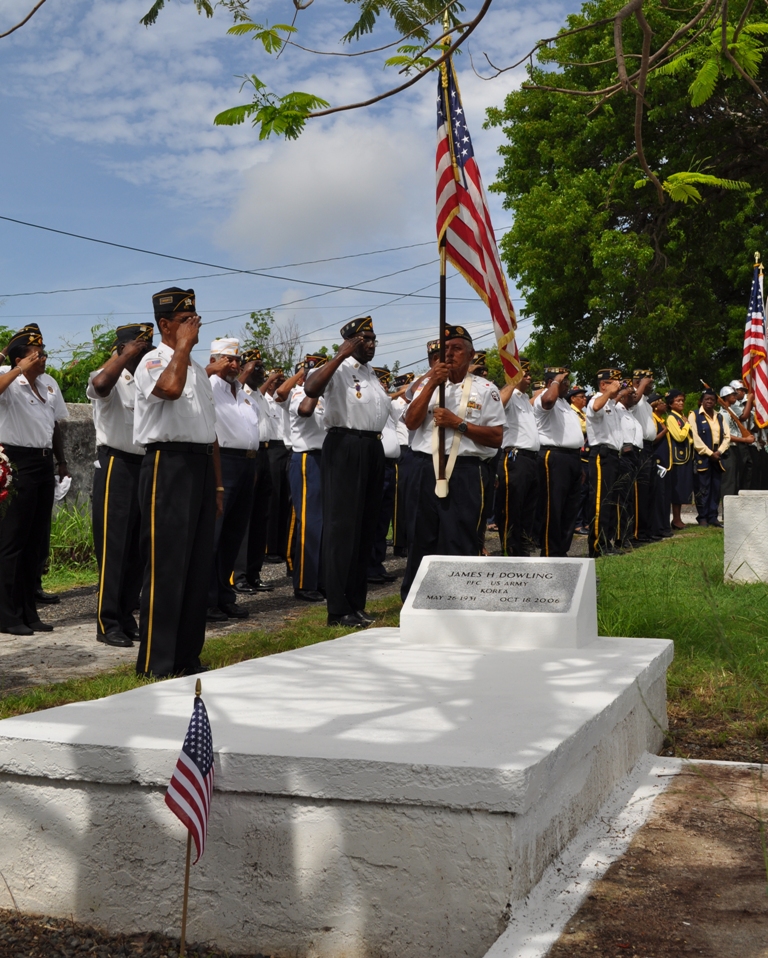 American Legionnaires and V.I. National Guardsmen marched into the Frederiksted Cemetery Monday morning to the somber sound of drumbeats in order to honor departed comrades during St. Croix's Memorial Day parade.
First known as Decoration Day, Memorial Day was established on May 5, 1868 as a national day to decorate the graves of fallen Civil War soldiers. In 1971 it was declared a national holiday by Congress, which designated it as the last Monday in May as the day for its observance.
At 9:30 a.m., Gov. John deJongh Jr. and V.I. National Guard Maj. Gen. Renaldo Rivera led the procession from Post Office Square into the cemetery, where the 73rd Army Band fell silent in observation of a solemn graveside ceremony honoring Korean War veteran, Private 1st Class James H. Dowling.
The Color Guard and American Legion members saluted the grave, and after a brief prayer and short remarks, the sound of shots rifled through the air as a firing squad paid tribute, followed by a poignant rendition of "Taps."
The entourage, which included Central High School's marching band, the majorettes and Pathfinders Club, continued its march down to the Anne Abramson Pier, where a short prayer was read in a seaside ceremony. Gov. de Jongh and a family member of Dowling's threw a vibrant red and white rose wreath off the dock.
The parade then marched to the nearly vacant Buddhoe Park for a bandstand program hosted by Annie Day Henry, 1st vice commander of American Legion Post No. 102. She explained that more than a million service members have been killed in wars since 1775.
"They served so that we could keep the things we love the most: God, country and family. We must never forget what those heroes have done and what their loved ones have lost," she said.
Then, the 73rd Army Band played a reverent rendition of the National Anthem, where soldiers, airmen, and Legionnaires saluted the flag with pride. Several speakers followed, including Charles David, the American Legion commander of district No. 10 from Puerto Rico.
"Let us all take a moment to honor and remember those who gave to their country. They gave up all of their tomorrows so that we could remember them!" he said. "If you asked our fallen heroes before they died what they wanted most, they would say 'take care of my family,' which is why President Lincoln said the government shall 'care for him who shall have borne the battle, and for his widow and his orphan,'" he ended.
Maj. Gen. Rivera also gave some touching remarks, when he explained the feeling that overcomes him when he has been given the duty of handing the flag to a fallen comrade's next of kin at a military funeral.
"When I turn around and see their expression, my eyes well with tears. My tears are territorial and for a nation when we lose a member. When we do, we want to send them off with pride and honor," Rivera said.
The parade and ceremony barely drew a crowd; but those who did come, felt honored to pay their respect.
"I really liked the ceremony …. I really pay a lot of respect to the soldiers who have died," St. Croix resident Jason Barrett said.
Resident Avonelle Sackey was disappointed in the turnout. "I enjoyed the parade; I just wish there were more people. It's really sad to see so few people and it's important for people to come out so that folks going into the service will know that their sacrifice is not in vain," she said.
Also speaking at Monday's program was deJongh, American Legion Post No. 85 Commander Amos L. Sealey, Sen. Alicia "Chucky" Hansen, Chaplain Charles Vallarde and keynote speaker Richard A. Schrader.