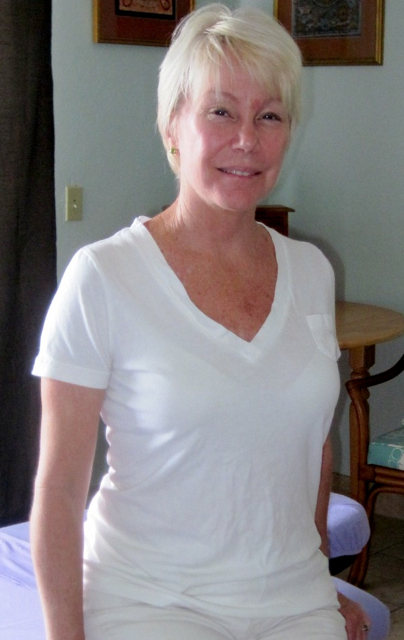 Vicki Uzzell heads up a 10-person team of massage therapists who work at St. John's Caneel Bay Resort. Her specialty is structural integration, called the Rolf Method.
"It balances the tissues so that you have an optimal relationship with the force of gravity," she explained.
While people all have the same basic parts, she said that each person is unique when it comes to massage therapy needs.
"It's endlessly fascinating to me," she said.
According to Uzzell, she finds it gratifying to be able to help people feel better or "run faster."
Uzzell, 56, was born in Wichita, Kansas and attended college at the University of Texas at Austin. She got interested in massage therapy while living in a Colorado resort town. She launched her career at the Vapor Caves, an area in Glenwood Springs known for its spa services.
"I feel like it's a calling. I see the practice as a form of art," she said.
She was living in Asheville, N.C., when she and Nelson Uzzell decided to move to St. John.
"Winter rolled in," she said of the decision to leave chilly Asheville in the fall of 1986.
The two got married at Peace Hill on St. John in 1987.
She soon landed a fill-in massage therapist job at Caneel Bay. When another therapist left, she took over the slot and eventually owned the company that holds the Caneel Bay contract, Uzzell LLC.
Meanwhile, she went off to the Guild for Structural Integration in Boulder, CO., graduating in 1990.
And daughter Lila, now 17, was born at home on St. John. She is currently finishing high school in Wisconsin.
Now separated from Nelson Uzzell, she said she's living in the present and open to any possibilities that come her way.
"There might be some exciting turn along the way," she said.
When she's not busy keeping her Caneel Bay team on track, she likes to swim St. John's waters and hike its hills.
"But I'd like to find more time for fine arts," she said.
People can book a massage with Uzzell's team by calling the Caneel Bay concierge at 776-6111, extension 7218, or ging online to www.stjohnmassage.com.