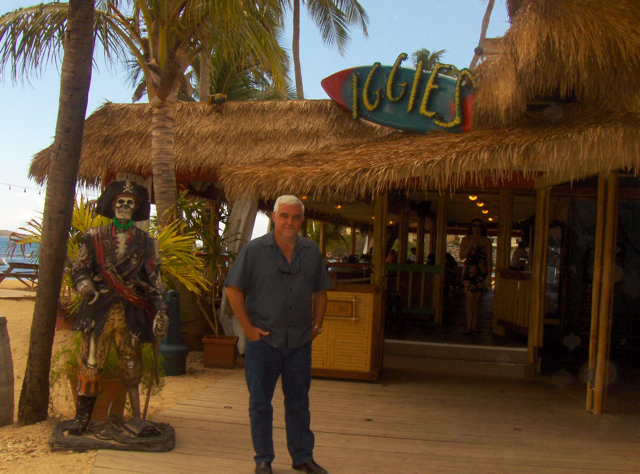 Ebullience is what comes to mind listening to Richard Doumeng. In fact, you might say Bolongo Bay Beach Resort runs on it. That, and a dedicated family effort to maintain its genial atmosphere.
Doumeng, hotelier, hospitality industry leader, managing director of the Bolongo Bay family of properties, immediate past board chairman of the V.I. Hotel and Tourism Association, thrives on his passion for the Caribbean in general and St. Thomas in particular. The island has been his home on and off for the past 45 years.
As Doumeng strolls on the resorts's 900-foot beachfront, a wedding is just concluding, a tiny flower girl running by to catch up to the wedding party heading to Iggie's Beach Bar & Grill for the reception.
"Weddings are a big part of our business," Doumeng says. "Not just us, but all the major hotels. We have our own wedding staff, Lorrie Leonard and Jaime Costa."
It quickly becomes apparent that Doumeng puts his money where his mouth is where the resort's coveted friendly reputation is concerned. He not only greets all the employees by name, but many of the guests.
A grandmotherly looking woman in beach garb, greets him.
"Richard, here we are, and it's time to leave again, it's been wonderful again, and I thank you again."
Doumeng gives her a goodbye hug.
"This is going to look staged," Doumeng jokes. The resort prides itself on being "the friendliest in the Caribbean."
"This is a unique business," Doumeng says. "We take a part of a family's life savings, and, we give them memories. If you do it right, they will come back. We even have third generation guests, grandkids who are grown up now. They keep coming back."
The Doumeng family has been "doing it right," since Richard's father, Dick Doumeng, and his wife, Joyce, opened the resort in 1974, on an "idea" the elder Doumeng had about how you should treat people. As it turned out, that's all he really needed.
Doumeng says he didn't start out to be a hotelier. Rather, he saw himself starring on the Broadway stage, or as a writer, or both, which will come as no surprise to anyone who knows him. He isn't known as a retiring personality. However, he is quite philosophical about his experience.
"After the University of Florida, I went to New York," he says. "While waiting to become famous, I worked at the Ritz-Carlton. In fact, I was the youngest front manager the hotel had ever had."
With a smile he says, "I finally decided it was more important to be able to afford to go to a Broadway show than star in one."
Richard returned to St. Thomas after his father and his partners purchased LimeTree Hotel in 1988.
"That was the catalyst to get us all back home," Doumeng says. "We were scattered, in Chicago, New York and Los Angeles, but we still had St. Thomas in our blood."
The family makes up the management team; Katerina Doumeng, Richard' wife, sales and marketing manager; brother Paul Doumeng, general manager; Scott Neiboer, Joyce Doumeng's nephew, whom he describes as 'a brother', operations manger; Iselah Neiboer, Scott's wife, rooms division manager; and Paul's wife, Colleen, advertising and sales manager. All of the above, on the hotel website, claim there's "too many bosses."
Back in his office, Doumeng interrupts his reminiscences, as something catches his eye on the security camera from Iggie's.
"See that guy sitting there," he says. "He's 47 and he just got married for the first time. He was so happy. He cried like a baby. He told us he'd never been treated better in the world."
Doumeng takes special pride in the staff, some of whom have been with the resort since its inception.
"There's Viola Albert, 'mommy', who's a Lobster Grille legend; senior housekeeper Silvia Green, and head landscaper Leslie Phipps," Doumeng says, "who've come from the former hotel. Heavenly Days catamaran Capt. Peter Baker has been here 23 years."
The beach is the stage for any number of local gatherings, from the Texas Society Chili Cook-off to the Humane Society Barktoberfest and the SNIP (Spay and Neuter Island Pets).
"We have two first class restaurants, the Grille and Iggie's," Doumeng says, Other than the fine cuisine at the Grille, lunch guests love to swim up the pool bar for a libation. "At Iggie's, Doumeng says, "we carry on the Carnival tradition every Wednesday night, with moko jumbies and a steel band. We're the only one who does that now."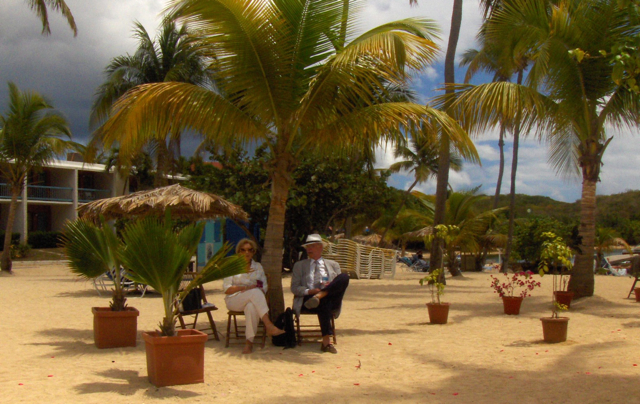 The family's efforts have been richly rewarded, not only in personal pride in what they offer to their guests, but in recognition from the Caribbean community. The resort is the largest family-owned resort on the island.
Dick Doumeng represented the Virgin Islands regionally and nationally, serving for more than 30 years as an officer and board member of the Caribbean Hotel Association (CHA), as well as director of the American Hotel & Motel Association.
In 1988, Doumeng, along with his wife, Joyce, were named "Caribbean Hoteliers of the Year," placing them in the CHA Hall of Fame as the only husband and wife team bestowed with this honor.
Making it three in the family tradition, Richard Doumeng, was awarded the prestigious 2009 Hotelier of the Year Award by the Caribbean Hotel and Tourism Association. An outspoken advocate for tourism, Doumeng is a longtime board member, and recent past board president of the V.I. Hotel and Tourism Association.
Doumeng relaxes for a minute.
"I'm proudest," he says, "of how my family has always been and continues to be involved in the community. I think we are exceptional corporate citizens. We like to say we are big enough to keep it real, and small enough to be intimate."