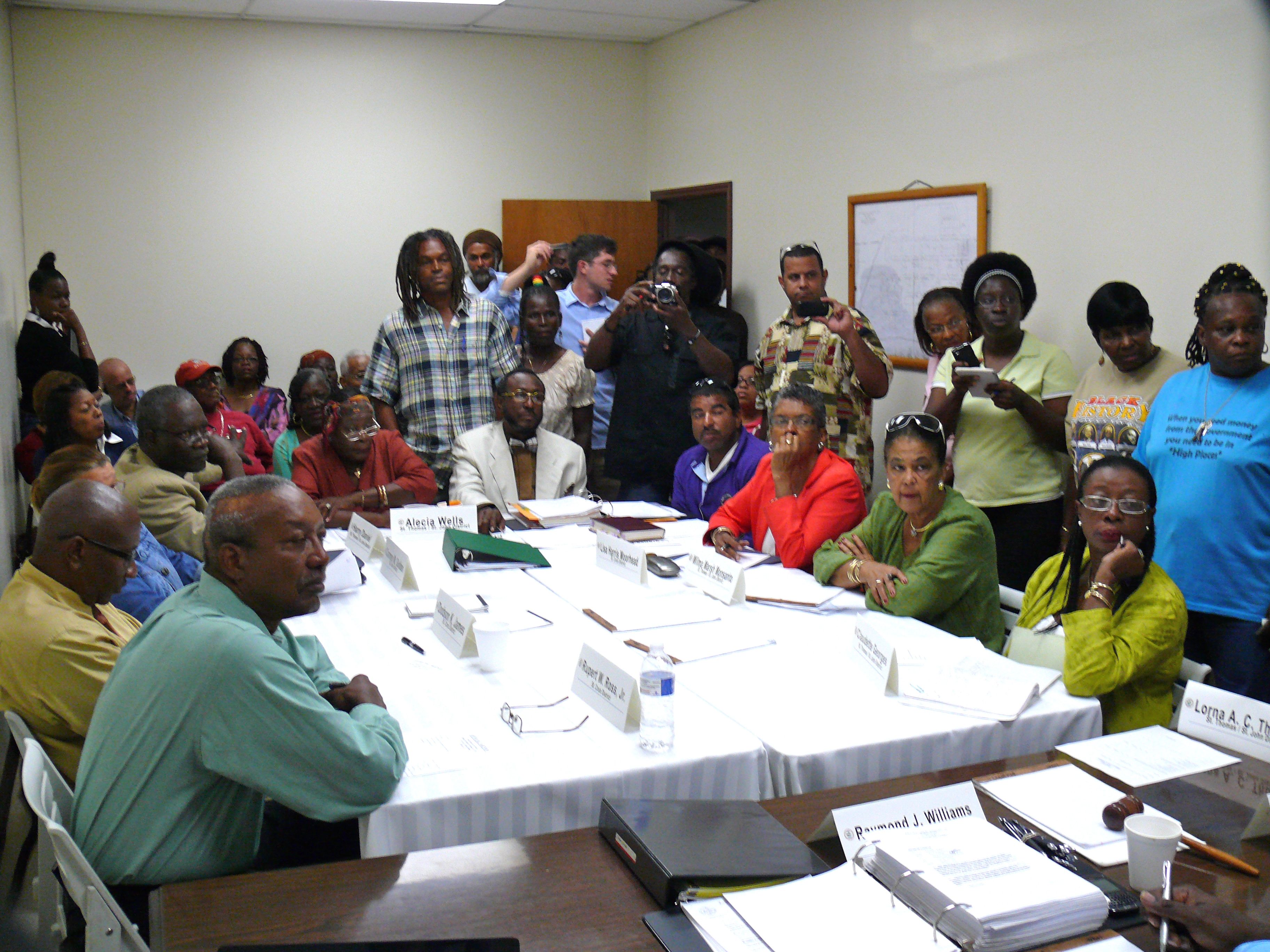 The Joint Board of Elections held its first regular meeting since the January swearing-in of newly elected members and selected its officers in a short, contentious meeting.
The board is a joint body comprised of members of both V.I. district boards of elections. The district boards have authority over elections in their districts. By law, they must meet quarterly to set territory-wide elections policy. Also by law, the Joint Board votes to select new officers at its first regular meeting after elected members are sworn in.
Newly elected St. Croix Board of Elections member Adelbert Bryan delayed the meeting at several junctures, but the board proceeded onward and held votes to elect a chair, vice chair and secretary before adjourning.
St. Croix member Rupert Ross was elected chairman; St. Thomas member Claudette Georges was chosen to be vice-chair and St. Croix member Ana "Anita" Davila was elected secretary.
The delays began when Bryan arrived with a large group of supporters—and two V.I. Fire Services officers—saying the St. Croix Elections Office conference room was not large enough to allow all the supporters to be present.
V.I. Fire Services Capt. Lorenzo Acosta and Lt. Greg Williams measured the room, and then said the room was not suited for public hearings and that there were too many people in the room. They answered questions on the specific safety codes and how many people could be in the room, standing, seated, with tables and without.
Acosta said elections officials had requested a fire inspection at some point. The inspection was done at the exact time of the quarterly meeting because "Bryan wrote a letter asking us to come inspect this morning," Acosta said.
With Acosta and Williams saying the room was too small, board members asked them to measure a neighboring storage room. They returned after a few minutes saying it could accommodate more people. But Elections staff determined it was impractical to move because there was no place to move all the material being stored there.
St. Thomas board Chairwoman Alecia Wells moved to remain in the room and allow all those already in the room to stay, without regard for the legal limit on the room's occupancy. Although Bryan had arranged the meeting-day inspection, he nonetheless offered an amendment to Wells' motion, saying they should also allow anyone else who arrives later to come in the room too. His amendment failed but Wells' motion passed, and the meeting proceeded in its original location.
Acosta and Williams did not object and soon left.
Delays continued throughout the voting process, with Bryan objecting or raising points of order before and during each vote, talking over other members and interrupting roll call votes by alternately ignoring the secretary's calling of his name and using the call for a "yea" or "nay" vote as a chance to resume talking.
The reasons for the delaying tactics were unclear, but Bryan has a long history of disruptive behavior at meetings. As an elected delegate to the 5th V.I. Constitutional Convention, he engaged in very similar actions, slowing meetings by objecting to every motion and every amendment, then filbustering when asked what his objection or point of order was.
On several occasions, the stenographer recording the hearing asked members to speak one at a time and once the meeting was over, said the chaos made it impossible for her to transcribe the meeting properly.
After officers were selected, outgoing Joint Board Chairman Raymond Williams handed the gavel over to Ross.
St. Thomas member Lawrence "Larry" Boschulte made a motion for the board to immediately consider whether to retain Superintendent of Elections John Abramson after his contract expires at the end of April.
Ross ceded the chair to Georges to speak against the motion. He recommended instead that the executive committee of the Joint Boards soon meet to discuss that and other questions and then have the Joint Board discuss and act on the question during the next meeting, sometime in March.
Bryan objected vociferously, arguing the Joint Board had the authority to act immediately if it wanted to. He did not elaborate on why it should act immediately rather than in March.
The motion to immediately consider whether to retain Abramson failed, with a tie 5—5 vote.
There was another delay when, halfway through the vote, Bryan objected that the vote was not valid because newly elected Secretary Davila was not the one reading the roll call vote. The vote was begun a second time, with Davila calling the names.
Although he spoke in favor of the motion, when it came time to vote, Bryan kept refusing to respond to the roll call, then began responding with the single word "unready." He was ultimately counted as abstaining.
Voting no were: Boschulte; Ross, Williams, Carmen Golden and Dodson James. Voting yea were Georges; Davila, Wilma Monsanto; Lorna Thomas and Colette White-Amaro.
Abstaining were Wells, Bryan, Harry Daniels and Lisa Harris-Moorhead.
All members were present.
The two district boards selected officers at organizational meetings held earlier this year. For St. Croix, Ross is chair, vice chair is Harris-Moorhead, and Dodson James is secretary. In the St. Thomas-St. John district, Wells is chair, Monsanto is vice chair, and Daniels is Secretary.