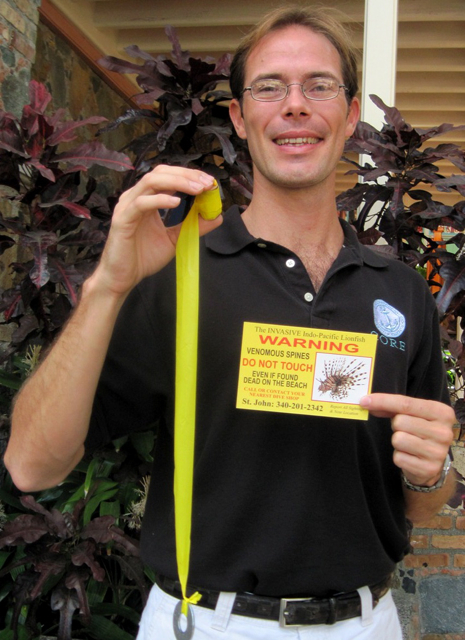 With the lionfish problem continuing to grow on St. John, the Caribbean Oceanic and Restoration Foundation is doing what it can to get rid of the fish.
"Our plan is to reduce the numbers," said Karl Pytlik, who heads CORE activities on St. John.
It's an all volunteer operation. Pytlik has a day job as manager of the Friends of V.I. National Park store and works some weekends running dive trips. Others of the 50 people who can respond when someone spots a lionfish also have full-time jobs, part-time jobs or are retired.
"We're looking for more volunteers," Pytlik said.
Pytlik sees that the key to getting rid of the fish is education. He does presentations on the lionfish problem whenever asked, and has one lined up for 5 p.m. Tuesday at Mongoose Junction shopping center's courtyard.
CORE's educational goal is to let people know how the voracious lionfish can damage the reefs by eating the fish that normally live there and keep the reef clean of algae. He said lionfish, ranging in size from five inches to a foot, eat 10 to 20 juvenile reef fish a day. While there's been no obvious degradation of the reef so far, he worries that if volunteers don't continue to capture the fish, it will happen.
Pytlik said the organization also works to help people properly identify the lionfish. He said that in two instances, tourists misidentified the fish, killing instead a frog fish and a feather duster. Additionally, the lionfish has poisonous spines, which can sting.
"And you can't eat the fish because it carries ciguatera," he said, referring to the fact that eating fish with ciguatera can make people very sick.
Instead of capturing the fish, CORE prefers that you mark the spot and call the organization so a volunteer can do the job. Easy-to-carry markers made of a cork, a washer and a yellow plastic streamer are available for free at the Friends of the Park store, St. John Spice and dive shops.
While St. Croix's lionfish plague started in October 2008, St. John didn't see its first one until March 2009. Since then, CORE and others captured 70 lionfish on St. John. Pytlik said the number stands at 500 on St. Croix and 250 on St. Thomas.
"That's not to mention sightings, those not able to be found, or not marked so they couldn't be removed," Pytlik said.
CORE got started in St. Croix, and soon expanded its work to St. John, St. Thomas, Water Island the British Virgin Islands, Puerto Rico, the Cayman Islands, and the Turks and Caicos. Pytlik said that outside of the Virgin Islands, the work comes under the Caribbean Alliance umbrella.
CORE has a $10,000 grant from a private individual to fund its work across the Caribbean, Pytlik said. It pays for the markers, information cards distributed at hotels and dive shops and the few other materials needed by this shoe-string organization. Financial donations are always appreciated, Pytlik said.
Anyon who spots a lionfish on St. John can call CORE at 201-2342. The number on St. Thomas is 201-2341. On St. Croix, call 201-2240. In the BVI, the number is 284-468-9611.
Those seeking more information can send Pytlik e-mail at nolionfishstjohn@yahoo.com or visit www.nolionfish.com.