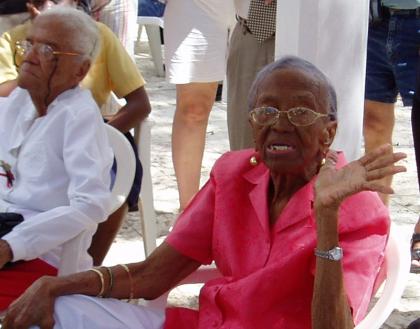 St. Croix cultural advocate, educator, storyteller and icon Delta M. Dorsch died Friday morning at the age of 95.
Born in Frederiksted in 1915, Dorsch was among the first generation of St. Croix women to earn a high school degree. She went on to get her bachelor's degree from Central Michigan University, and then graduate and postgraduate degrees in School Administration from New York University and Columbia University, respectively.
A member of the Commission on the Preservation of Virgin Islands Culture and of Our Town, Frederiksted, Dorsch was a valued tradition-bearer who devoted her life to keeping interest in Virgin Islands culture alive. Using her gifts as a storyteller, Dorsch was a leader in the effort to preserve Virgin Islands folk tales from extinction.
She worked for 38 years as both a teacher in the V.I. school system and as an instructor of elementary education in both undergraduate and graduate programs at UVI's St. Croix campus.
Dorsch also served as deputy commissioner for curriculum in the V.I. Department of Education from 1977-1982, and as chairman of the board at St. Dunstan's Episcopal School.
Over the years she received numerous service awards and honors. In December, UVI renamed its St. Croix campus residence halls, the Delta M. Jackson Dorsch Complex, in her honor. Dorsch Beach in Frederiksted is named for her.
She leaves behind many friends, family and admirers, but none closer than her nieces Claire Roker, who cared for her in recent years, and Juanita Gatison.
"She is at rest now, which makes me happy," Roker said Friday afternoon, saying her aunt had not been well for some time now.
Upon learning of her passing, many prominent Virgin Islanders expressed their condolences to Roker and Gatison and offered their praise and remembrances of her.
"She continued to be a mentor and friend to generations of her students and their children, always having words of support and encouragement for all that they endeavored especially if it was for the good of St. Croix and Frederiksted," said Delegate to Congress Donna Christensen in a statement. "Mrs. Dorsch and her generation were the backbone of our community and we will do well if we can emulate the standards they set for excellence. … Her gift as a storyteller, as well as her fervent quest to protect Virgin Islands folktales from extinction, will be her lasting legacy," Christensen said.
Gov. John deJongh Jr. noted Dorsch was born just before the territory became part of the United States and among her other accomplishments, authored "The Role of the Story Teller in Virgin Islands Culture."
"She has seen our history unfold, and shaped it by shaping the minds of countless students," deJongh said. "The contributions of someone like Delta Jackson Dorsch are immeasurable — they impact us at the core of our identity as a people."
Lt. Gov. Gregory Francis said he had fond memories of her storytelling and the vivid imagery she used "to bring the story to life before our eyes."
"She was a master of her craft and clearly delighted in sharing the rich traditions of our oral history with the young and old," he said.
Sen. Shawn-Michael Malone expressed his condolences, "especially to her niece, Mrs. Claire Roker, whose love and devotion to her during these recent years inspired us all."
Sen. Louis Hill recalled how her storytelling provided vivid accounts of another era.
"She wanted to share her appreciation of the rich culture and heritage of our region, and we will remember her as a distinguished Virgin Islands woman with great vitality, delightful humor, and dignity," he said in a statement.
The Source will provide information about funeral services when it becomes available.