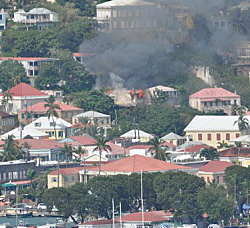 The historic Charlotte Amalie structure known to many as the Captain Simmons house was destroyed by a fire Saturday, but the V.I. Territorial Emergency Management Agency and the Fire Service said there were no injuries despite early reports that there may have been people trapped inside.
Just past noon, 911 emergency operators received calls saying a two-story home was on fire at Synagogue Hill and two individuals could be inside.
All St. Thomas fire stations – Hotel, Lima and Tango companies – responded and arrived on scene within minutes, according to a statement from VITEMA. The fire was under control within an hour and extinguished by 2 p.m. St. Thomas Search and Rescue and the Emergency Medical Services also responded and remained on standby as firefighters worked to control the blaze. Crews continued to work at the scene until after 5:30 p.m., witnesses said
The house has historically been the property of the Simmons family. Its familiar name referred to Engle Leverock Simmons,St. Thomas harbormaster in the 1930s.
The cause of the fire is under investigation by the Arson and Prevention Unit.