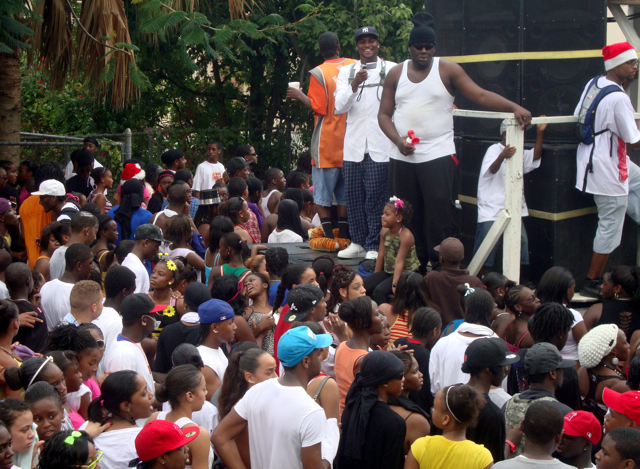 Take three bands on three flatbed trucks, add several thousand Crucians and a sprinkling of police officers for safety, then mix them together early in the morning on the streets of Frederiksted. What do you have?
Jouvert, of course, a favorite part of the Crucian Christmas Festival tradition.
As the sun was rising Wednesday the pulsing rhythms started echoing out from the Hannah's Rest intersection, sending startled wildlife scurrying for cover. As the next two hours passed the sound built, calling out the thousands of people eager to dance in the streets.
They came in costumes, they came in T-shirts and jeans, they came in pajamas and many came dressed in group outfits – there were more girls in tutus than you'd see at the average ballet recital.
It wasn't all sweetness and light – several fights broke out during the tramp, an officer was injured and one man was arrested, according to the V.I. Police Department.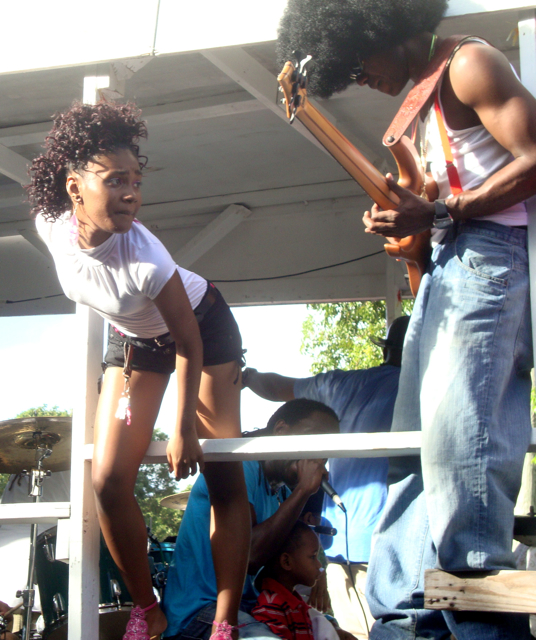 "There were between five and eight separate fights," said VIPD Public Information Officer Melody Rames Wednesday afternoon. "They were separate, but seem to have been related," she said.
All the fights were between females, she added.
While officers were breaking up one fight, someone threw a glass bottle in the direction of the fight, hitting an officer, causing a laceration on his neck. The officer was treated by emergency medical technicians at the scene and was not seriously hurt, she said.
Olrick Harris, 25, of Estate Calquohon was arrested just before 11 a.m. for obstructing a police officer in the performance of his duties, Rames said. Harris was taken into custody and bail was set at $1,000, she said.
While the fights appeared to be connected in some way, police do not know exactly who was involved and what it was about.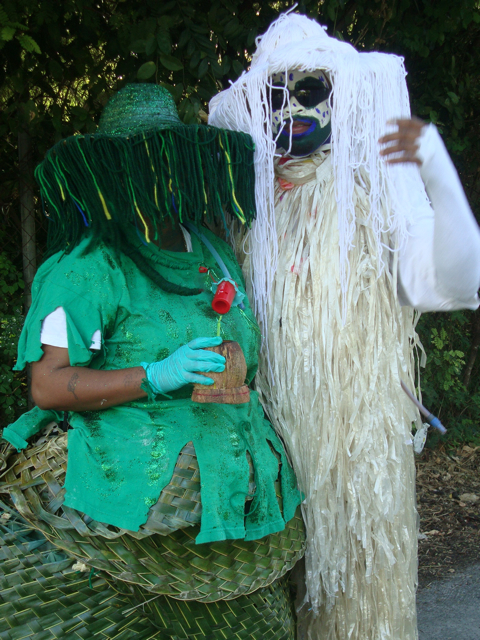 But most people attending the early morning event weren't aware of the trouble. Most of the crowd came to dance in the streets, and a little rain that fell during the march couldn't stop them. The three participating bands were happy to supply the pulsing bass and driving rhythms to get them doing exactly that.
The Stylee Band, which led off the tramp, appeared to be hands-down the most popular, as crowds surged around the truck that carried them through the streets. They were followed by Fusion Band, which had a healthy following, and Evalushan Band.
Jackie Hughes and her brother, Johnny Hughes, were elaborately made up in long, stringy costumes – she in green with a woven grass skirt, he in white – a tradition they've been following for at least eight seasons, she said. Asked whether it was better to prepare for Jouvert by gettng up early or staying awake all night, she laughed and said, "Stay up all night!"