Shortly after noon Tuesday, 140 V.I. Montessori School & International Academy students sat down to lunch. That is, 28 of them sat down in chairs at a table covered with a table cloth laden with everything from shrimp curry to cheesecake and brownies, while the remaining children sat on the floor or benches outside, eating from a paper plate filled with one cup of rice and one cup of beans, no silverware, and a plastic cup of water.
It wasn't the academy's normal lunch hour, but it's one that leader Gloria Zakers, science teacher and Academy co-director, said they will remember.
"It's not fun and games," Zakers told them, "but I promise you, it is a lunch you will remember."
The occasion was the 4th annual 80/20 lunch designed to bring home in an immediate way a sobering statistic: "80 percent of the worlds' population consumes 20 percent of the world's food," Zakers explained, "and 20 percent of the population consumes 80 percent of the world's food."
The students, mostly from the upper and middle school, gazed at Zakers while they waited to see how this as yet abstract fact affects them.
They found out in a few minutes, as they picked numbers for a lottery. There were 140 assembled students. So, 20 percent of that would mean 28 lucky children would dine in style, while the remaining 80 percent would have a "lunch to remember."
The numbers of the fortunate 28 were randomly selected from a computer model. As Zakers read the numbers, the 28 youngsters bounded for bountiful table, while their school mates lined up for a plate of rice and beans and took their places on the floor, gingerly picking up the food with their fingers.
There was nothing fair about the experiment, as the students soon realized.
Lots of "ohh, icky, eowws'" came from the floor as the diners dug in with their hands, while conversation all but muted at the dining table, with expressions of guilt.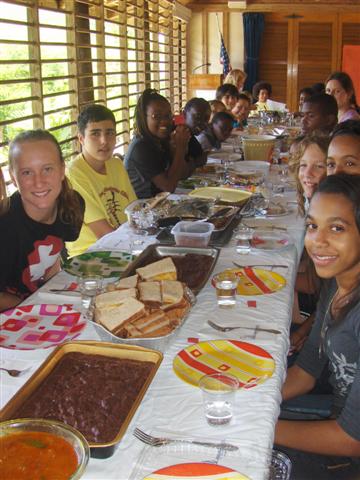 "Oh, I want so much to share," said one student. "Well, you know you can't," answered another.
Zakers took donations from the students as they filed in the dining area. They had been instructed to bring lunch money today, "as though they were going out to lunch."
The box, she later said, was the "heaviest" ever. In fact, Zakers said later they had raised $575.
She told the youngsters, "You can't trade places with these children, but we can donate to the companies that do feed these children." She said the funds will go to UNICEF and Sega girls' school in Tanzania.
Zakers explained that nobody, even staff, was allowed to eat anything other than what they were served. "We make certain that all parents know their children will come home hungry today," she said.
Before the plunge for the dining hall, the students learned a bit from someone who has lived in Ghana for three years, eating even less than the rice and beans. Diandra Jones, arts and physical education educator, who began at the academy this fall, spoke movingly about living with her Ghana family, as she taught in an HIV/AIDS awareness program.
"They took me in, and I lived as they did. They became my family. In Ghana, you never eat anything without inviting your neighbor to join you. I showed them pictures of my American family, and they couldn't understand how 'fat', how 'obolo' we all were," said Jones. "I am close to tears when I think of them now, sitting around sharing one bowl of rice."
Jones told the students, "We in the 20 percent have a responsibility that comes with good fortune. We have the power and freedom to do something. Remember today how fortunate we all are, and we are capable of changing the world."
The children began to marvel at their own feelings at lunch, and after. Aneesh Chandiraman, one of the 20 percent, said, "I really felt sorry for the other kids, especially because some of my friends were in that group. I realize how fortunate I am."
The rules were strict. No sharing with the less fortunate. The children were not allowed to share their food. Seven-year-old Sarah Soto sat on the floor close to tears looking at her rice and beans, while Montessori Director Shournagh McWeeney sat next to her.
"You must be very brave," McWeeney said kindly, however, to little avail.
Zakers told the children to think about the experience over the Thanksgiving holiday. "And to be grateful." The kids responded, writing on a big sign entitled "I am thankful for." They filled in answers ranging from "my education," "my life," "for water and food," several "my mommies" and one simply stating: "brownies."
After lunch, a group of the older students were busily packing about an impressive array of food, about 500 pounds, they have collected in the past 10 days. Courtney Jenkins, science teacher and Rotary Interact sponsor said the food will go to the Salvation Army, and to St. Lucia, where drive coordinator student Melissa Van Brieson said the provisions were "desperately needed.
Zakers said she and former teacher Bridget Heersink started the program based on a high school experience of Heersink's. To learn more about the Montessori program, click here http://www.vimontessori.com/programs/documents/80-20Lunch.pdfbookmark