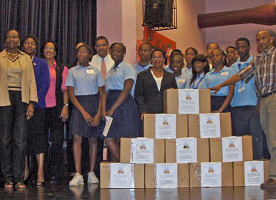 A dedicated effort by a group of Charlotte Amalie High School students and a persevering teacher was rewarded Monday as the students presented a pyramid of boxes stuffed with food collected in a holiday food drive to the Catholic Charities Soup Kitchen, Shelter and Outreach program.
The program is run through Bethlehem House, the island's only homeless shelter. The organization distributes over 40,000 meals a year, through the residence and the outreach program, directed and delivered by shelter manger Richard Gomez.
Andrea Shillingford of Catholic Charities expressed the organization's thanks. "We appreciate this generous and very unselfish gesture," she said, calling their effort "an example to other students, to teach others to care for the territory's homeless."
The ninth and tenth graders are students of Jobs For America's Graduates-VI (JAG-VI) of CAHS. JAG-VI is a program that teaches performance competencies necessary for students to succeed in school and thrive in the workplace. It is a joint initiative between the Department of Labor and the Department of Education.
On hand to commend the students, beaming in their newfound recognition, was Gov. John deJongh Jr. "Today's event is very special as it is truly the end result of a collaborative, student-led effort to try and help those members of our community who need the most assistance. This effort came bottoms-up through the students. They are showing their compassion for those with less, and setting the stage for future similar efforts that benefit our community."
The students, however, were a step ahead of the governor. Shayna Morgan, who presented the donation with Tequan Cruse, said, "We all plan to do it again, make it an annual drive. We really want to help."
The students said they hadn't gone to the big supermarkets for donations; the effort was much closer to home. They said they had asked their parents to help. "They even put donation boxes where they work," Morgan said. "We looked in our own homes, too," Cruse said. The items are all non-perishable, mostly canned and packaged goods, the students said.
CAHS teacher Josette Ellis said, "I asked the students what sort of community project they would like to do. They came up with all sorts of ideas and decided on the food drive. It was a real group effort, with the parents' employers chipping in – Callwood Water Service,, AT&T, Jacobs and Sons, and even the Superior Court."
Ellis said JAG-VI is a regular CAHS class, designed to help students who may not be headed to college right away. "It teaches them job readiness, to prepare for the job market," she said. "It's part of the CAHS Career Association."
Department of Labor representative Jeanna Boschulte and Department of Education Commissioner LaVerne Terry, along with CAHS principal Carmen Howell, also expressed their pride in the student's efforts.
Gomez, speaking after the presentation, said Bethlehem House would hold Thanksgiving on Saturday this year. "So many charities serve a big Thanksgiving meal that we decided to change the date." He said the idea came from Catholic Charities director Michael Akins, a veteran of many Thanksgivings.
"We will serve our regular residents a turkey dinner on Thursday, but we'll save the big dinner for Saturday," Gomez said. "We expect to feed about 150 to 200."