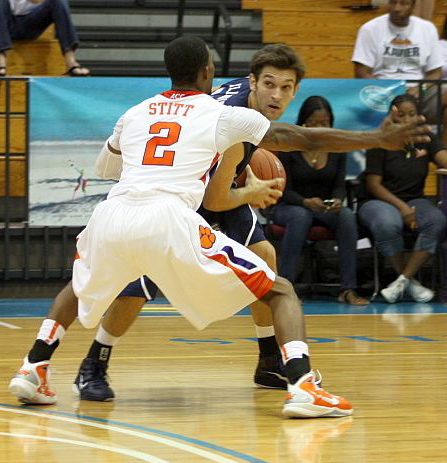 A three pointer at the buzzer by Clemson's Andre Young wasn't enough to take down Old Dominion University in a 61-60 thriller to start day three of the Paradise Jam Basketball Tournament Sunday.
From the tip, ODU struggled, going the first five minutes without scoring until a layup from Chris Cooper sent the Monarchs on a 10-0 run, capped off by Kenyon Carter's tip-in with 11:05 left in the first half, making the score was 10-4, Old Dominion.
The score remained relatively close throughout the first half, until the 5:03 mark when a three from Ben Finney put ODU up 20-19. A few minutes later, a layup from Nick Wright extended the lead to three, 22-19, ODU. The Monarchs shut Clemson out for the final minutes of the first half and at halftime, found themselves up by nine, 28-19.
Clemson rallied to start the second half and with 13:05 left in the game, a dunk from Milton Jennings gave Clemson back the lead, 37-36. A few seconds later, a tip-in from Kent Bazemore gave ODU a lead that they would hold for the rest of the night.
As time ran down in the second half both teams were going back and forth, until, with 18 seconds left in the game, a three pointer by Young cut the lead to two, 59-57, ODU. Two missed free throws by Finney gave Clemson a chance to take the lead or tie, but with five seconds left on the clock, the Tigers' Demontez Stitt turned the ball over.
On the very next play, Bazemore hooked up with Carter on a full court pass that led to an open dunk, 61-57, ODU. Young then sank a desperation three, but time expired and ODU held on for the win.
Guard Frank Hassell and Finney paced the Monarchs with 13 points each. Carter finished with 11 and 10 rebounds.
For Clemson, Demontez led all scores with 24, followed by Milton with 9.
The win sends Old Dominion into the championship game against the winner of Sunday's matchup between Seton Hall and Xavier.