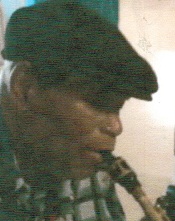 Lt. Ira A. Samuel Sr., also known as "Baker," "Sammy" or "Dermis," of Herbert Grigg Home for the Aged died on Oct. 24. He was 76 years old.
He is survived by his daughters: Lorna, Donna, Pamela "Pammy" Samuel, Edna Henry and Mary Croome; stepchildren: Jannette Cowart, Annette Clarke, Mona, Sonia Brenda Sackey, Pauline Williams and Shayne Pemberton; sons: Michael Samuel and Daniel Samuel; 39 grandchildren and stepgrandchildren; and seven great-grandchildren. He is also survived by daughters-in-law: Michelle Samuel, Sonji Samuel and Allene Pemberton; sons-in-law: Hepston H. Henry, Samuel Sweeney, Curtis Croome and Revere H. Smith; sisters: Annabell "Bella" Stevens, Gwendolyn Woods and Agnetha Thomas; brothers: David Heyliger and Joseph "Joe" Samuel; many nieces, nephews, great nieces and great nephews; and godchildren: Kim Urgent and Vernon "Narrow" Joseph. Other survivors include cousins and other relatives: Tino and family, Francis and family, the Hewitt family and the Shuster family; special friends: Sylvester "Blinky" McIntosh, Stanley and all band members, Jean Prince and Anita M. Bess; as well as many other relatives and friends too numerous to mention.
The family asks that those who are attending the service please wear festive colors.
A viewing will take place at 9 a.m. followed by a funeral service at 10:30 a.m. on Thursday, Nov. 4, at St. Patrick's Catholic Church. Interment will be at Kingshill Cemetery, Veterans Section.
All arrangements are by James Memorial Funeral Home Inc.