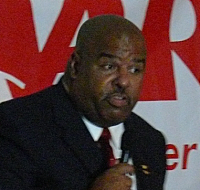 This year's federal health care reform served to show the bright lines of distinction between the different philosophies of Delegate Donna Christensen, the Democratic incumbent, and congressional challengers Vince Danet (Republican) and Guillaume Mimoun (Green Party) when they debated Thursday on St. Croix.
The three candidates diverged like the three bears in the Goldilocks story, with Danet saying it goes too far, Mimoun saying it did not go far enough and Christensen touting its benefits.
"Look at health care: where is the public option?" Mimoun said. "We need a public option. Those things stick out like a sore thumb to me and after 14 years, do you think we could have done better?"
Christensen was first elected to the U.S. House of Representatives 14 years ago. The House passed a health care bill with a public insurance option last year, but the U.S. Senate never held a vote on the question and the final reconciled bill had no public option.
Danet took the view the bill not only went way too far, but may be unconstitutional.
"A federal judge in Florida has let 20 U.S. states go forward with lawsuits challenging it," said Danet. "Now what does that tell you that at least 20 states think the health care bill is bad?"
Christensen touted the reform act as a big improvement, while not quite saying, in Goldilocks fashion, that it is just right.
"I'm very proud of health care reform, which has many provisions to ensure people in the territory have access to quality health care," Christensen said. Among its provisions, health care reform gives large tax credits to help small businesses get private health insurance, she said.
"Those who meet the criteria are eligible for a 35 percent tax credit now and in 2014, that will go up to 50 percent," she said.
Danet and Christensen sparred on Social Security as well, with Danet saying the system is broke.
"On Sept. 30, 2010, Social Security went $28 billion in the red," Danet said. "You can look that up."
Christensen said the system was not in the red, because those figures only take account of this year's revenue and not the trillions of dollars of surplus revenues accumulated over the years.
"Social Security is not in the red," she said. "Any money removed from the trust fund is replaced with the strongest bonds there are: Social Security Bonds. … The roadmap to the future my Republican candidate speaks about would cut your benefits and send your money to Wall Street investors. We are not going there."
Independent candidate Jeffrey Moorhead did not appear at the forum.
The forum at Gertrude's Restaurant, sponsored by AARP and People United for a Better Virgin Islands, also featured this year's gubernatorial candidates.