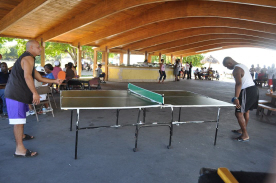 True to military habit, the V.I. National Guard jump-started its annual Organizational Day bright and early with a 5 a.m. walk-run-bike event at the Vincent Mason Pool in Frederiksted.
The race involved approximately 30 participants, and ended with an awards ceremony that honored the fastest people in each event.
"This is a day for the full-time force to get together, relax, and celebrate the esprit de corps of the National Guard," said Lt. Col. Kai Schjang, one of the leading organizers of the event.
There was a lot of preparation involved for the members to be able to enjoy their day at the beach. State Command Chief Master Sgt. Willette Lewis called on several airmen to volunteer alongside soldiers with the preparation and serving of a variety of foods for breakfast and lunch. In addition to the group meals, members were able to enjoy a number of activities, including volleyball, dominoes, snorkeling, ping pong and dancing.
The State Public Affairs Officer, Master Sgt. Karen Williams, described the event as "a day to let the members and their families know we appreciate their service and dedication."
The Organizational Day occurs annually in October to celebrate the Army National Guard's federal recognition, which was given on Oct. 19, 1973; the Air National Guard received its recognition in May 1980.