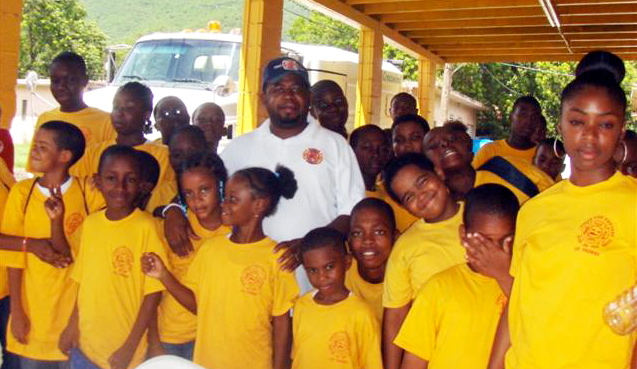 The St. Thomas/St. John Junior Firefighters Corp. has a lot to celebrate this week. The organization is marking its 30th anniversary, and this is Fire Prevention Week, as proclaimed by Gov. John deJongh Jr.
The week is dense with activities on all islands, which kicked off Sunday morning with an All Saints Church Service Sunday, followed by a laying of memorial wreathe at the cemeteries.
No one is more excited about it than Daryl George, Fire Service assistant director, and the group's long-time program director, who is also celebrating his 30th year with the corps.
"Sen. (Carlton) Dowe, who was a firefighter in 1980 when the program was just forming, recruited me when I was 10-years old."
George's interest has never flagged. He became a full-fledged member of the Fire Service in 1995, and took over the junior program at that time.
"Thirty years," the youthful looking George reflects with a smile. "That's a long time."
Every Saturday, you can find George at the group's Bournefield headquarters, if they aren't at baseball practice, at the beach, drilling for a parade, or other activities.
The group, which started off with about 40 members, now has grown to more than 80, about half of whom are girls, George says.
Firefighter Patricia Benjamin, Junior Firefighter assistant director, exemplifies the female spirit of the group, while leading a mini-battalion of her own family. Supervising about 50 energetic youngsters Saturday at the Bournefield quarters, Benjamin talks about how she and three of her sisters came to be in the program, which was born out of personal tragedy.
"Two of my siblings were lost in a house fire. I never knew them; it was before I was born," she says. "My inspiration was my parents. They encouraged me."
Benjamin joined the firefighters as a 7-year-old. "I took to it right away," she says, "and I learned so much from the start," she says.
She wears the navy blue T-shirt of the firefighters now. She says there was never any doubt that's what she would do. Her youngest sister, 15-year-old Capt. Adia Benjamin, sits nearby, making out uniform lists for the group.
The young captain, who also started at the age of 7, is equally engrossed in the program.
"I've learned about pumping, spraying, we go with the firefighters when they check hydrants."
She has her eye on a couple of the very young recruits while we chat. 7-year-old Shariq Davis has two whole weeks under his belt. So far, he says, "I like to go to the beach."
Two other Benjamin sisters, Kamila and Aretha, now grown, also rose through the firefighter ranks, though Patricia is the only one, so far, to continue in the career.
The program started out in 1980 under the direction of Carlos Valle. Firefighter Clinton Donovan became director in 1982, and ran it until George took over in 1994.
Donovan is one of three being honored at the organization's 30th anniversary ball at Wyndham Sugar Bay Resort Oct. 9., along with Sen. Dowe and Carlos Valle.
George's involvement in the youngsters is apparent. Saturday, while talking about the program, his attention never is far away from what the youngsters are up to.
"One of the rewards," he says, "is being able to watch the kids grow, and to know when and how to help them."
Of all the youngsters in the program, from private and public schools, he says, "only has been retained, had to stay back."
While the youngsters learn about firefighting, fire prevention, arson and fire safety, CPR, rescue and first aid, George says that's hardly all.
"We have so many programs," he says. "We have a counseling and mentoring program to guide the youth in a positive direction. We concentrate on developing civic pride, as well as personal pride and self-respect."
The program is ranked with military titles – after the junior designation, they rise to corporal, sergeant, lieutenant, captain, girls and boys alike. George says there is no gender discrimination.
They take an active role in the community, doing cleanup drives on downtown streets, as well as coastal cleanups. They took part in painting and cleaning the Queen Louise, Lucinda Millin and Sea View nursing homes.
And they cleaned and painted their own back yard, the brightly painted yellow Bournefield Fire Station, Kilo Company.
That's the character-building work the youngsters do. For fun they have their own Little League softball team, field trips include visits to neighboring islands, once even to Disney World, and camping trips on St. John. Next year, George says, the youngsters will create their own steel band.
Oh, there's one more thing. They learn to cook. George says one Saturday it's the girls' turn and the next, the guys. It's a firehouse tradition, of course, and he says the youngsters are good.
"We have stew chicken, beef, even chili. You should come out."
Fire Prevention Week Activities
St. Thomas/St. John
• Monday
9 a.m. to 1 p.m.
Open House – All Stations
• Tuesday
9 a.m. to 1 p.m.
Open House – All Stations
• Wednesday
9 a.m. to noon
Kids Jamboree
Winston Wells Ballpark
St. John, VI
9 p.m. Karaoke Night
Shandoo's Bar
• Thursday
9 a.m. to 1 p.m.
Open House – All Stations
7 p.m. Harbor Cruise
Boat leaves Waterfront, across from Windward Passage, at 7 p.m.
• Friday
6 p.m. Fire Service Night Out
Joseph Aubain Ball Park, Frenchtown
7 p.m. Harbor Cruise
Boat leaves Waterfront, across from Windward Passage, at 7 p.m.
• Saturday
6 p.m. to midnight
Junior Firefighters 30th Anniversary Ball
Wyndham Sugar Bay Resort
• Sunday
11 a.m.
Beach Party Wrap-up
Magen's Bay, Shed #2
St Croix
• Monday
9:30 a.m. to 1 p.m.
Open House – All stations
• Tuesday
9:30 a.m. to 1 p.m.
Open House – All stations
• Wednesday
9:30 a.m. to 1 p.m.
Open House – All stations
6 p.m.
Motorcade
Fire & Rescue
Assemble at Herbert L. Canegata Fire Station
7 p.m.
Softball Tournament
David C. Canegata Ball Park
• Thursday
9:30 a.m.
Fire Prevention Kids Jamboree
David C. Canegata Baseball Park
7 p.m.
Softball Tournament
David C. Canegata Ball Park
• Friday
9:30 p.m.
Queen Louise Home Visit
7 p.m.
Softball Tournament
David C. Canegata Ball Park
• Saturday
10 a.m.
Fire Prevention Beach Party
• Sunday
10 a.m.
Fire Prevention Beach Party