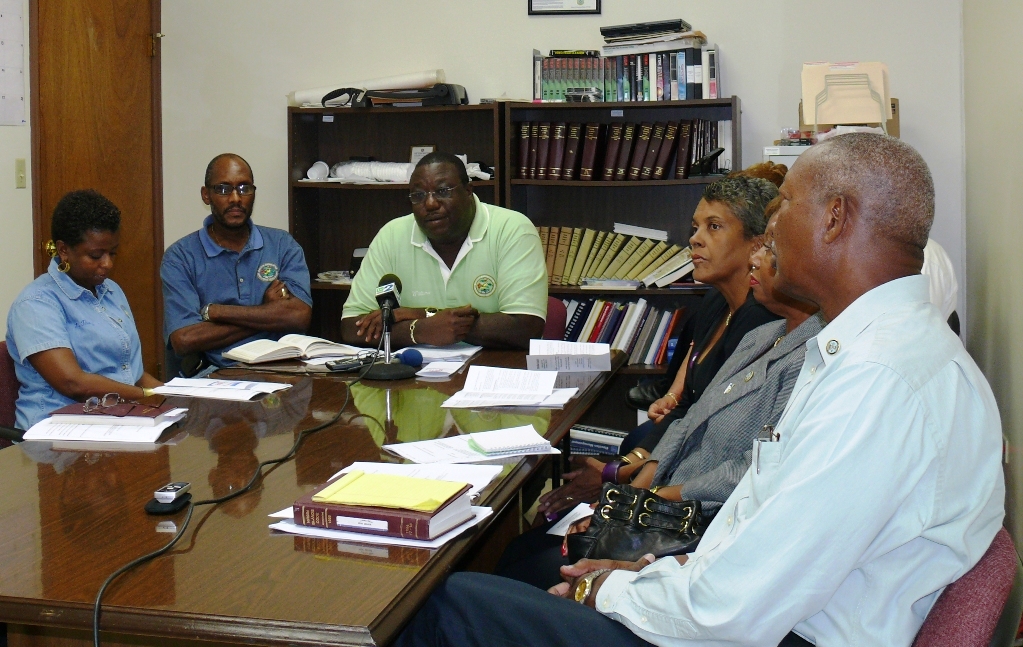 Unless they meet one of a very short, specific list of criteria, voters must use the territory's electronic voting machines to cast their vote in this Saturday's primaries and November's general election, Supervisor of Elections John Abramson Jr. said at pre-primary press conference Thursday.
Members of both the St. Croix and the St. Thomas-St. John boards of elections were also at the press conference.
According to Abramson, the rules established by the two district boards of elections say provisional ballots may be issued only when:
— a voter's name does not appear on the roster and elections officers cannot determine registration status;
— a voter who is not listed and is verified to be ineligible disputes the ruling;
— a first-time voter does not have identification; or
— a citizen is voting as a result of a court order extending polling hours.
If a person does not meet one of these criteria, they must use the regular electronic machines and cannot simply opt for a provisional ballot out of personal preference, Abramson said.
The question arose in the wake of lawsuits filed by former Sen. Adelbert Bryan in U.S. District and V.I. Superior courts claiming voters must be given an opportunity to use paper ballots and asking for injunctions forcing the election system to accommodate their use.
Both cases were rapidly dismissed by the respective federal and territorial judges.
On Thursday Bryan came to the press conference, where he continued to press his case.
As in his lawsuits, he argued that terms in the federal Help America Vote Act of 2002 (HAVA) such as "instrument" and "ballot" referred specifically and only to paper ballots, which would imply every district in the U.S. using electronic machines is in violation of the 2002 federal law.
Late last month, U.S. District Court Judge C.J. Bartle dismissed that particular legal claim on the grounds HAVA only applied to federal elections, and V.I. law "has mandated the use of electronic voting since 1984."
At the territorial level, Judge Julio Brady was blunt and acerbic in his analysis and rejection of Bryan's request for an injunction against the V.I. election system.
"Even a cursory examination of the … arguments presented by (Bryan) demonstrate a startling absence of proof of facts," Brady wrote. "Rather, his presentation can best be described as expressions of personally held opinions on the election system."
Brady concluded Bryan lacks standing to sue, in part because Bryan is registered and eligible to vote and has not shown any injury.
Questioned about the two separate rulings dismissing his claims, Bryan said the judge "didn't want to listen to what I was saying."
Asked why he felt he needed to cast a paper ballot, Bryan said electronic voting machines like the Danaher Electronic 1242 (formerly Shouptronic) machines used in the territory were unreliable, might be manipulated, and lacked a real, voter-verified paper trail with which to check the machines' digital record.
Bryan is correct that they do not produce a voter-verified paper trail, but merely print out the electronic record after the fact. While there is little evidence of problems with such digital-only systems, some critics argue that without an independent paper record, it is difficult or impossible to check the machines' accuracy. Concern over that potential has prompted 27 states to require a voter-verified paper trail.
Asked if the two elections boards could vote to allow the use of provisional ballots for anyone who prefers not to use the electronic machine, St. Croix Board Chairman Raymond Williams said "no, that would have to be done by the Legislature."
Bryan and others have also questioned why Delegate Donna Christensen is not on the primary ballot.
"Only one person, only Christensen has filed as a Democrat for that office, that is why there is no primary for Christensen," Abramson said after reading aloud provisions of V.I. law which lay out the condition under which no primary is conducted.
Bryan said there should be a primary regardless of the text of the law or whether anyone filed to be a candidate, because people might want to write in votes in the primary, not just in the general election.
"What happens to those write-in votes if there is no primary?" he asked.
These small controversies notwithstanding, everything is ready and in place for the primaries this Saturday, Williams said.
All the polling places will open at 7 a.m. and remain open until 7 p.m.
Each candidate may have up to two poll-watchers per polling place, but poll watchers must register with the Board of Elections and may not wear or display political material, he said. Campaign staff and campaign material must stay within a marked zone a certain distance from the polling places too, he said.
"We are asking candidate personnel to operate in the designated zone and to clean up afterwards," he said.