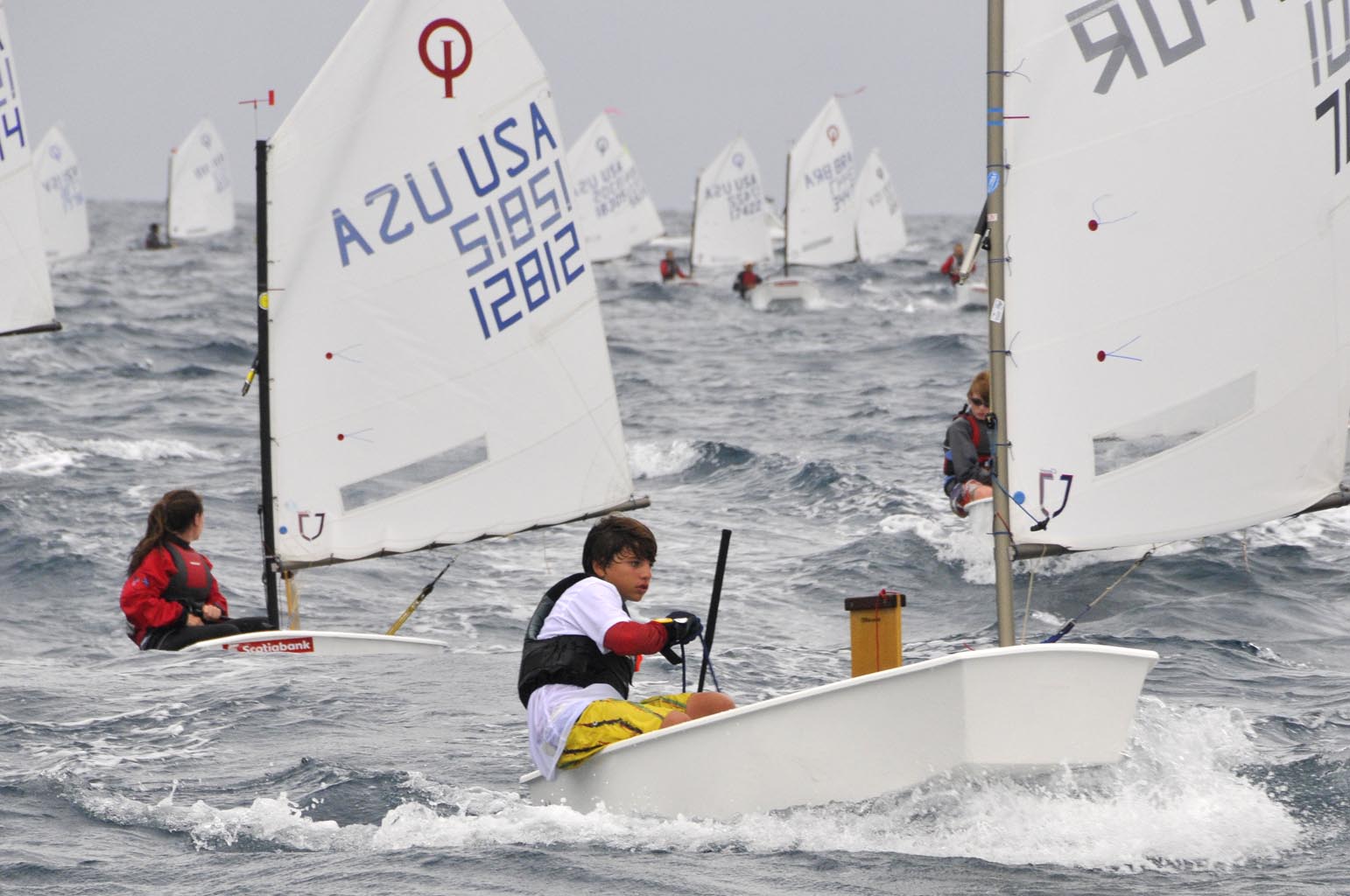 Concentration spelled success for 14-year-old Jorge Gonzalez from San Juan, Puerto Rico, who won the 18th annual Scotiabank International Optimist Regatta, held out of the St. Thomas Yacht Club, U.S. Virgin Islands, June 18-20. "It was cold, windy and shifty, and that's what made it so important to concentrate," said Gonzalez, who took the fleet lead on the second day of racing and held it when the two final races were canceled on the last day of sailing due to stormy weather.
The USA's Duncan Williford finished second overall, while St. Thomas' Nicholas Gartner placed third overall. Gartner was also the top scoring U.S. Virgin Islands' sailor.
Ninety sailors ages 7-15 years from 11 nations
– Barbados, Bermuda, Brazil, the British Virgin Islands, Curacao, Canada, the Dominican Republic, Puerto Rico, Trinidad and Tobago, the United States and all three U.S. Virgin Islands – set sail in the Caribbean Sailing Association sanctioned event. Eight races were completed for the Red, White and Blue Fleets and 18 for the Beginner Green Fleets.
Gonzalez's finish also earned him a first place in the 13- to 15-year-old Red Fleet.
In the 11- to 12-year-old Blue Fleet, it was Romain Screve from San Francisco, California, who took the top place prize.
"I was disappointed because I wanted to win first overall," said 12-year-old Screve. "But, I was surprised at how hard it was. The winds would be blowing 15 knots one minute and 5 knots the next. It was so shifty that it could turn your race upside down and take you from winning to losing. In one race, I won the start, then a big wind shift came through and I finished 30th."
Ford McCann from Houston, Texas, bested the 10-and-under White Fleet.
"This is the first time I've sailed here, but my family has often chartered a sailboat and we've cruised here," said 10-year-old McCann. "It was hard, especially with the weather. It taught me to hike really hard, to never give up and to never underestimate the power of how long I could keep going."
The Scotiabank International Optimist Regatta marked the first regatta for David Kleeger outside of his home waters in St. Croix, and he won the beginner Green Fleet against 17 other sailors from a host of locations.
"It was really different sailing here," said 12-year-old Kleeger. "A different wind direction, different seas, a whole different location. It was fun, though, and I just tried my best to stay ahead all weekend."
Fourteen-year-old Megan Grapengeter-Rudnick, from Connecticut finished as Best Female and fifth overall.
Grapengeter-Rudnick also won the Pete Ives Award, which is given for a combination of sailing prowess, sportsmanship, determination and good attitude both on and off the water.
Meanwhile, Puerto Rico's 8-year-old Savannah Baus won the Chuck Fuller Sportsmanship Award.
Lawrence A. Aqui, vice president of Scotiabank for the U.S. and British Virgin Islands, commented, "Even though not all of the kids were up on the podium, they were all winners and should feel proud. They sailed in windy squalls and big seas and it took a lot of perseverance, determination and skill. These are the attributes that make for success in the future. We at Scotiabank are proud to sponsor this regatta and look forward to doing so again next year."
Results (Top 3)
Red Fleet
1. Jorge Gonzalez, Puerto Rico (31)
2. Duncan Williford, USA (45)
3. Nicholas Gartner, St. Thomas, USVI (61)
Blue Fleet
1. Romain Screve, USA (123)
2. Jack Parkin, USA (130)
3. Colin Brego, St. John, USVI (145)
White Fleet
1. Ford McCann, USA (164)
2. Wiley Rogers, USA (179)
3. Miguel Monllor, Puerto Rico (220)
Green Fleet
1. David Kleeger, St. Croix, USVI (34)
2. Ryan Hunter, USVI (60)
3. Cameron Giblin, Puerto Rico (61)
About the sponsor:
Scotiabank – which celebrated its 175th anniversary in 2007 – is one of North America's premier financial institutions and Canada's most international bank. With close to 57,000 employees, Scotiabank Group and its affiliates serve approximately 12 million customers in some 50 countries, including 21 Caribbean island nations, around the world. Offerings include a diverse range of products and services, including personal, commercial, corporate and investment banking. Scotiabank in the U.S. Virgin Islands has proudly served as title sponsor of the Scotiabank International Optimist Regatta, hosted out of the St. Thomas Yacht Club, since 1992. This youth regatta is the largest annual event of its kind in the Caribbean.