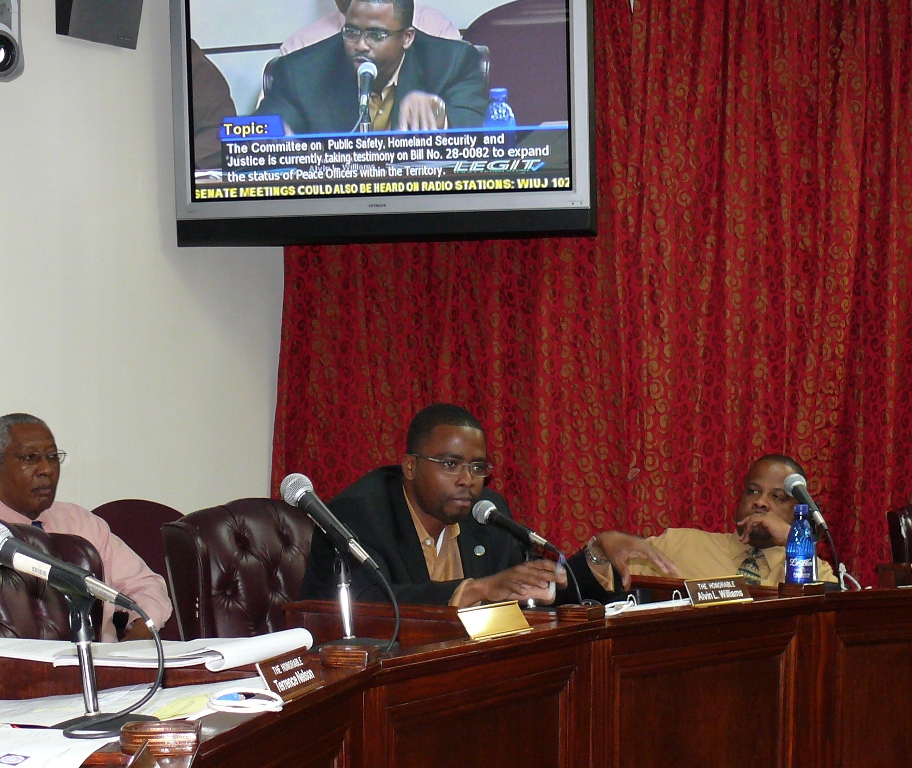 Among several items approved at a productive Rules and Judiciary Committee hearing Thursday in Frederiksted was a bill giving domestic violence victims some protections against harassment and stalking at the workplace. If the bill, sponsored by Sen. Alvin Williams, passes, employers will not be able to fire or demote an employee as a consequence of an abuser or stalker showing up at their workplace.
An employer can demand the worker get a restraining order after the first workplace disturbance but cannot fire or suspend the worker or use the situation as a reason not to promote him or her. Additionally, a worker who is a victim of domestic violence or sexual assault could not be penalized for taking time off work to get medical treatment, court orders, social services or other measures to address the problem. But the worker would have to back up their claims with notes or certifications from counselors, law enforcement or social service agencies.
"Domestic violence affects everyone, regardless of race, class, gender or age," Williams said. Williams first proposed the law during the previous Legislature. But to highlight its ongoing importance, Williams cited a May St. Croix homicide were a man purportedly went to his ex-girlfriend's job early in the morning, took a fire extinguisher off the wall and fractured her skull.
Voting to send the bill on to the full Senate were: Sens. Neville James, Usie Richards, Carlton "Ital" Dowe, Sammuel Sanes and Michael Thurland. Sens. Patrick Sprauve and Celestino White were absent.
The committee also sent on a bill to require DNA testing for those convicted of many types of crimes and another bill to establish rules for buying and storing ammunition. The DNA testing bill sets up a legal framework for the creation of a territorial DNA database. Anyone convicted of any crime of violence or any sexual offense would automatically have to submit a DNA sample for testing and Police Department records. The two bills are aimed at helping police catch and convict criminals.
Also approved were:
— A bill changing the composition of the V.I. Board of Medical Examiners to include members of the community who are not medical professionals. This board oversees the licensing of medical professionals. The existing board consists of five licensed physicians, with at least one from St. John and no more than three from any one district. The bill would change that to four physicians and three community members: Two physicians on St. Croix, one on St. John and one on St. Thomas and one community member for each of the three major islands.
— A bill taking $200,000 previously appropriated for the Massac Nursing Home and redirecting $100,000 for medical alert bracelets for senior citizens, $50,000 for the Meals on Wheels program and $50,000 for the Health Department's Home Health Program and;
— A bill appropriating $40,000 from the Police Officer Training Fund to the V.I. Territorial Emergency Management Authority (VITEMA) for tsunami escape route signs and tsunami preparedness. If it passes the full Senate, that $40,000 will join $42,000 from a National Oceanic Atmospheric Administration (NOAA) grant that is also earmarked for work on tsunami preparedness and response in the territory.
The Uniform Fraudulent Transfer Act was held in committee to give sponsor Shawn-Michael Malone a chance to speak on the bill's behalf. Malone had stepped out at the time the bill came up for consideration.
Each senator voted yea on every vote, with one exception. Sanes abstained from voting on the bill with new restrictions on guns and ammunition.