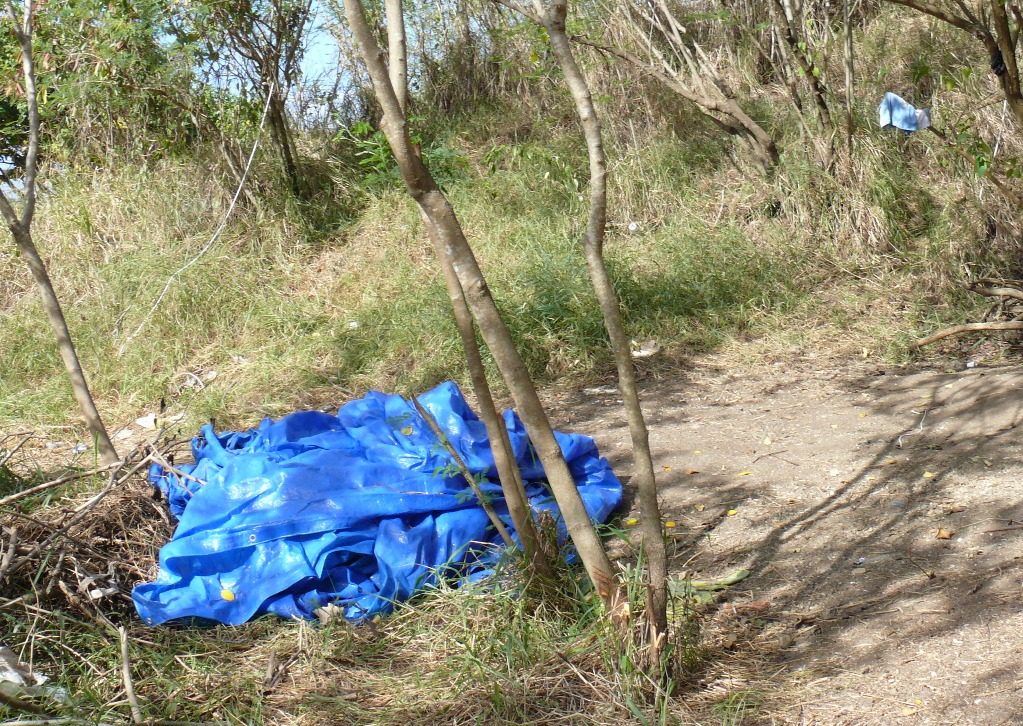 After another year of Easter camping on St. Croix's beaches, by Tuesday most had taken down their tents and makeshift kitchens and gone home, leaving behind some studiously cleaned beaches—and some sporadically strewn with debris.
From a police and safety perspective, the holiday was a roaring success. Although thousands, perhaps tens of thousands, took to the beaches for days and nights of camping, eating, swimming and drinking, the V.I. Police Department reports there was not a single camping-related incident over the entire holiday.
"Everyone had a great time together with their families, just how it is supposed to be," said Police Department Public Information Officer Melody Rames.
Cleanliness and respect for the environment were more mixed. If the cleanliness of camping areas were graded like a school project, they would range from solid "A"s to a "C-"—kept from a "D" just by the curve.
Out west at Dorsch Beach, people had clearly made an effort to clean up. There were a few bits of Styrofoam plate here and there, and a little bit of debris around the outer fringes. But overall, it was cleaner than most days throughout the year—a "B +".
Moving north on the Frederiksted shore, Rainbow Beach and the beaches before and after were more of a mixed bag. Most campsites had been fastidiously cleaned up, but plates, bags and bottles could be found around others. At two sites, full bags of garbage were left on the ground; maybe a "B -".
Mid-island at Salt River- one of the most regulated camping areas on the island – conditions were worse.
Campsites down the cul de sac to the right off the main road were still occupied Tuesday afternoon, and the grounds around those sites had clearly been patrolled and cleaned. Away from the campsites, the brush had glass and plastic bottles, fast food trash and other debris, some of it old and some apparently new.
In the center beach front, right off the main road, there had apparently been a haphazard effort to clean up, but plastic bags, beer bottles, soda and water bottles, red plastic party cups and Styrofoam plates were strewn about.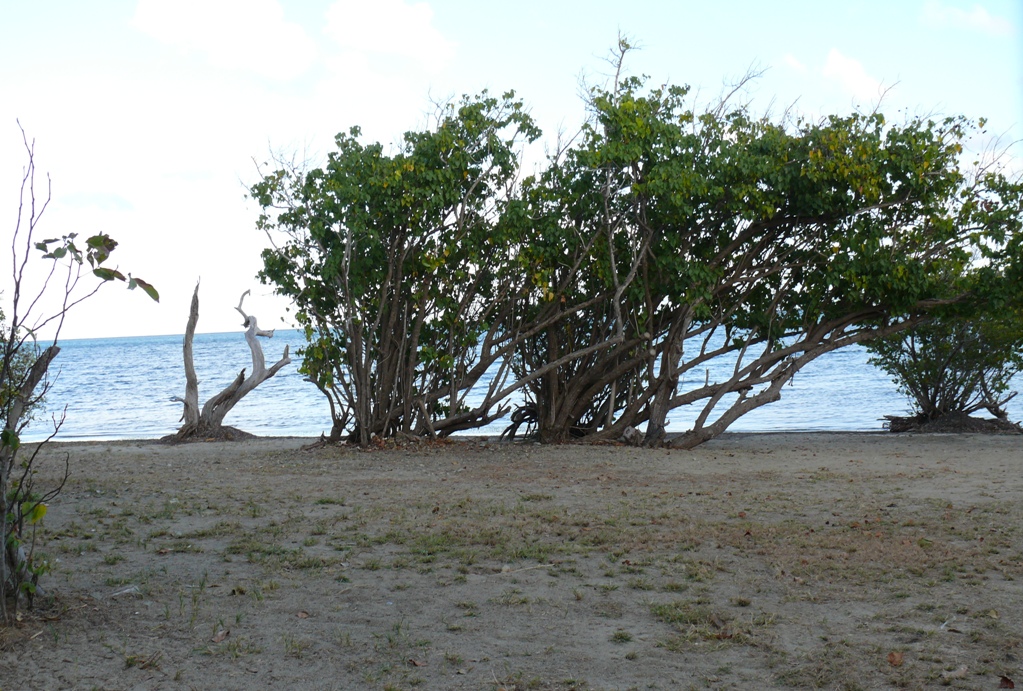 National Park Service Superintendent Joel Tutein visited the site Tuesday afternoon with several Park Service officials. "It is better than in years past," he said. "But clearly it could be a whole lot better. Camping here is a privilege, not a right. The public land is for everybody, not just for one group or another to do as they please."
The Park Service oversees Salt River in cooperation with the Department of Planning and Natural Resources, but it is largely left alone, Tutein said. As a result, "it is hard to tell what is recent and what is old," he said. The parks are for the people to enjoy, and campers have been returning to the same spots for many years, so "a lot of what we have to do is try to make it as clean and manageable as possible," he said.
Because DPNR and the Park Service have entered into a cooperative agreement, the Park Service was able to put out Port-a-Potties and a dumpster to help keep the place clean this year, he said.
Some of Salt River – the area to the west or left of the main road – is on private land, however, and that portion was in the worst shape, with towels and plastic bags hanging off the bushes; and empty beer boxes, bleach bottles, buckets, pizza boxes and old tires strewn about in a mélange of old and new debris.
"Overall, I'd give it a 'C'," Tutein said.
Way out east, Cramer's Park helped to pull the overall grade up. Housing, Parks and Recreation workers cleaned over the weekend, and campers from Sen. Terrence "Positive" Nelson's Positive Works project did daily sweeps, too. A few campers were still lounging about and slowly gathering up their gear in the afternoon and cleaning up around them, too.
If you looked very hard, you could find the odd plastic spoon or small scrap, but you really had to look. It was obvious that a lot of effort was put into cleaning up: solid "A" work.
At South Gate Coastal Reserve, near Chenay Bay, a clear effort had been made. On the beach was very little trash, but on the road in, cans and other trash sporadically dotted the bushes. That debris may not have been deposited over the weekend, however. Overall, the beach merited an "A–".
Around to the south shore, off through the brush past Great Pond to the family campsites by the shore, the scene was nearly immaculate. Checks of four different large campsites found nearly no trash. Some semi-permanent supplies, like wooden pallets and folding chairs, were stacked up and stowed away for future use, but neatly, for another solid "A."
A little to the west, Ha'Penney Beach threw a wrench into the upward trend though. Styrofoam plates, cans, bottles and other debris littered the road on the way in and out, though some was undoubtedly old trash. There were also some glass beer bottles and plastic water jugs right on the beach, beer 12-pack boxes stuffed with trash left in the bush and other debris. As with Salt River, there were campers still there and perhaps they eventually cleaned up, but as of Tuesday afternoon, it was moderately strewn with litter: a "C" at best.
Overall, the environmental aftermath of Easter Camping was better than many past years, but with plenty of room for improvement.