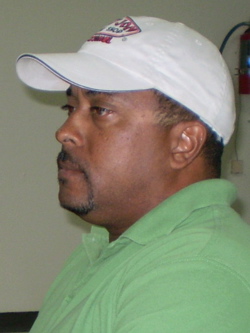 St. Croix fishermen at the Curriculum Center Wednesday evening told government officials to make the formula fit the fishermen—not the other way around. What was under discussion was a data collection system for the Virgin Islands, so the fisheries could be assessed and new regulations set.
"The Virgin Islands is a unique fishery," said Edward Schuster, president of the St. Croix Commercial Fishermen's Association. Speaking to officials from the Department of Planning and Natural Resources and the National Marine Fisheries Service, Schuster went on to say that local fishermen knew what they were doing, while suggesting the same might not be said for bureaucrats making assessments.
The other half-dozen fishermen gathered at the center appear to share Schuster's disdain for the proposed new system. "Why not invent something that could use our data, instead of asking us to collect different data for something you invented," Tom Daley said.
The proposal—presented by Robert Trumble of Marine Resources Assessment Group (MRAG), an independent consulting business currently under contract with DPNR to promoting sustainable fisheries—would require fishermen to turn in more specific data concerning the area a fish was caught, the fish's type, and the gear used in catching it.
One fisherman asked, "Does this mean that every time I catch a fish I have to stop and log it in?"
The proposal also included a requirement for more timely reporting. While Trumble acknowledged that fishermen had been doing a good job of collecting data for the last 40 years, he said the present data being collected was not sufficient to make an objective assessment of the V.I. fisheries. He added that much of the assessment of V.I. fisheries was based on data from Puerto Rico.
Speaking for the fishermen as a whole, Daley agreed that recording data by species and gear type was worthwhile. The fishermen also agreed to more rapid reporting and additional port sampling. However, they were hesitant about reporting by a smaller grid.
These new proposals are actually a result of a demand by local fishermen that local data be used in setting catch limits. In August of last year, the Caribbean Fishery Management Council agreed that when setting catch limits in the Virgin Islands, the council will use fish-count data only from the Virgin Islands.
However, fishermen are concerned that a burden is being placed on them now because of a nearing deadline. Annual catch limits for some species are mandated by the federal government to be in place by 2010 to prevent a fisheries collapse. Regulations could limit catches of species ranging from Nassau grouper to parrot fish.
The federal government has also mandated that regional regulatory bodies, such as the Caribbean Fishery Management Council, put together plans, with public input, that meet the federal requirements.
Wednesday's meeting was just the most recent in a series of meetings this year to comply with those mandates. Meetings will proceed to the next level on Nov. 16 and 17 at the Buccaneer Resort, where more government officials will be on hand to listen to fishermen's concerns.