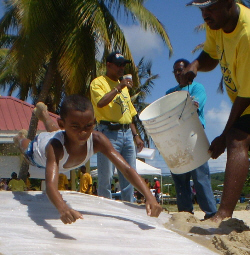 Fort Frederik Beach was hot Saturday, but oodles of kids stayed cool with water activities and games at the Boys & Girls Clubs of the Virgin Islands' "Boys & Girls Clubs Day for Kids."
The second annual family day, which was free, highlighted the value of meaningful time between adults and children.
"We created Boys & Girls Clubs Day for Kids to foster stronger relationships between adults and children by educating them on the importance and value of spending meaningful time together," said Julie Landreneau, executive director of the Boys & Girls Club of the Virgin Islands.
The day began with a proclamation from Gov. John deJongh Jr., read by Malcolm McGregor, assistant to the governor, encouraging parents and caregivers to talk, to listen, to learn, to play, to share a moment, to create a memory, and to make a child's day.
The kids had a blast on a makeshift slip and slide, sliding into the sea and running back in line to slide down into the water again. Volunteers kept pouring buckets of water and soap on the sheet of plastic to enable the kids to slide.
"This is so much fun," Gene Anderson, age 12 said. "It makes me feel like I'm at a water park."
Junie Bomba, director of Frederiksted Youth Community Boating, had two little Sunfish sailboats out for kids to sail on. Sailing the boats under the direction of Bomba were D.J. Lorshbaugh,14, and Marcellus Lafleur, 15.
"Not many people sail, but it is a good thing to keep kids out of trouble," Lafleur said.
Other beach activities included snorkeling and kayaking. Art instruction was provided by Country Day School art students. Instructional clinics included basketball, tennis, and archery. There was sand sculpture, dance, and hula hoop competition. Domino games were monitored by the Rotary West Club. Stephen O'Dea brought his donkey "Eeyore" and gave kids free rides.
Food vendors provided meals, snacks and refreshments. The day ended with the family movie "Bolt" shown outdoors on a huge screen.
Innovative Telephone was the major sponsor of the event.
"We understand the community supports Innovative, and we feel it is a social responsibility to support the community in return," said Clarke Garrnett, president and CEO of Innovative.
Christiansted, Frederiksted and St. Thomas clubs serve over 250 young people. The clubs provide young people 6-18 years old with guidance-oriented character development programs conducted by trained, professional staff.
Club programs emphasize leadership development, education and career exploration, community service, health and life skills, the arts, sports, fitness and recreation, and family outreach. For more information or to make a donation, call 340-778-8990 or email bgcvi.csted@rocketmail.com.