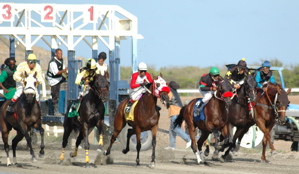 The horses will off and running for the annual Labor Day races on Sunday with post time set for 1 p.m. sharp.
Traxco has put together a highly competitive 10-race card; 67 thoroughbreds will go to the gates on Sunday with 11 of them coming across the pond from St. Thomas.
The feature race of the day, is the 1 1/16-mile ninth race, with a purse of $8,700, showcasing the best thoroughbreds presently running in the U.S. Virgin Islands, including Green Sand, coming off of a wire-to-wire victory during the last race day, Gallant Ruler of St. Thomas, winner of his last race on the big island by a disqualification, Soul Spirit, the horse disqualified for allegedly bumping Gallant Ruler, and Lost River, a tough campaigner who has shown he can compete at this level.
The much-anticipated rematch between Soul Spirit and Gallant Ruler is the highlight of the race. While it's possible neither horse will win, the DQ from their last encounter still smarts in the Soul Spirit camp, and they will be out to show that their horse was the true winner the last time out.
All horses will carry 119 pounds in this race.
Another race that will be closely watch is the first leg of the native bred Triple Crown, "The Cruzan Rum Native Classic," run at a distance of one mile for a purse of $8,700. This race in itself is special because for the first time in recent years, St. Thomas has a native-born thoroughbred good enough to challenge the St. Croix natives. Express to Cali after a winning effort on his last trip to the St. Croix will probably go off as one of the favorites in the race, carrying 117 pounds, however most local fans are expecting the late-running Prince Krystal, also with 117 pounds, to win from far back. The speed of the race has to be Emerald Star, carrying 116 pounds, and if he sets a hot pace this race could set up nicely for the Prince. Also entered are Bottom Belly, 114 pounds, Creation Rebel, 119, War, with 116 pounds, and Fantasia, 116.
The rest of the day's card:
Race 1 N-6 5F $3,700
1. Queen Agnes 114
2. Gold Sizzler 116
3. Dinero 116
4. Gold Finger 117
5. Teck That 114
Race 2 Class I-5& 6 1M $3800.00
1. Tulsa Boy 118
2. PR General 118
3. Elston V 116
4. Wiseman's Choice 116
5. Fantastic Four 114
6. Cat Hunter 118
7. Zirito 118
8. Russian Way 118
Race 3Class I-4 & I-5 1-1/16 M $4000.00
1. Seczone 118
2. Prayerful (STT) 118
3. Thunder Duncan 118
4. My Own Sky (STT)(Debut) 114
5. Heats on fire 118
6. Big Thunder Reflec 115
Race 4 Class H 4F $2500.00
1. Keep it Real 116
2. Fifty Cents 117
3. Out of hand (Debut) 117
4. Motorola 116
5. Empress Fortune (Debut) 114
6. Juanito (Debut) 116
7. Sahara's Haze 114
8. Bold Star 116
A/E. High Times 117
A/E. Emerald Princess 116
A/E. Sativa 114
Race 5 Open Mares & Fillies 5 F $4200.00
1. YMC Sword 114
2. Fantasy League 116
3. Sarasota May Bell (Debut) 116
4. Cherokee Neesh 114
5. Beautiful Move 114
6. Destiny's Arrival 114
7. Bold Cleo (STT) 120
8. Get Ready Now 114
Race 6 Class I-2 & I-3 1 M $4100.00
1. Unbridled Legend 116
2. Mi Jesuse 116
3. Guiltless 116
4. Dixie Find 116
5. Black Jack Bob 119
6. Meeses To Pieces (STT) 116
4. Collegeville Kid 116
8. Braheem (STT) 119
Race 7 Open 7 F $4400.00
1. Man The Torpedoes (STT) 119
2. Nothingbutthetruth (STT) 117
3. Dashing Pirate (STT) 119
4. Car Guy (STT) 116
5. Cherokee Law 119
6. Little Boy Brew 116
Race 10 Class M/F, 1-1/16 M $4000.00
1. Big Kate 116
2. Amazing Cat 114
3. Honor the Queen 114
4. Bright moonlight 114
5. Summertime Babe (STT) 118
6. Leggy Blonde 114
7. Qualifying Asset 115
8. She's Got The Helm 116