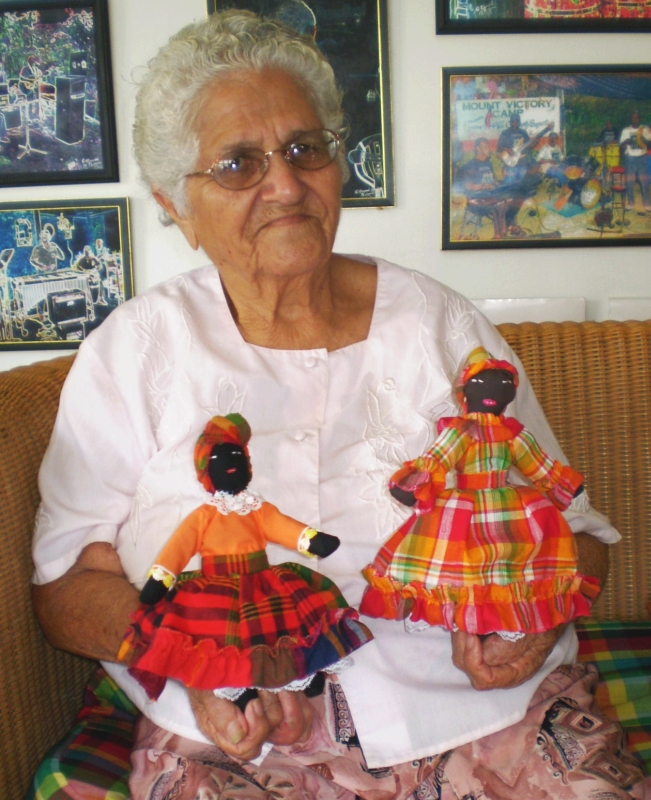 At age 80, Juanita Encarnacion's fingers are still nimble enough to handle a needle, and her eyes are good enough to sew tiny stitches. With those abilities she hand sews little West Indian dolls and their traditional clothes.
Encarnacion started sewing the dolls about 10 years ago to keep herself busy. She has always worked a number of different jobs, raiseda family and fostered children.
"Everybody is gone and left home, and I have to keep busy," Encarnacion says. Her husband, Andres, died in 1990, and her six children have lives of their own.
When she was a young girl growing up on the island of Vieques, Puerto Rico, Encarnacion sewed rag dolls and tote bags. She learned to sew in home economics class. That was the extent of her sewing then, because she was so busy.
Encarnacion moved to St. Thomas from Vieques in 1952. She moved because the U.S. Navy occupied the island and there wasn't much work to be had there.
On St. Thomas she worked in a laundry and sewing factory while learning English.
"I had to catch up on my English, which I did quick," Encarnacion says. After she learned English, she got a job in a gift shop.
While on St. Thomas she occasionally babysat Gov. John deJongh Jr. when he was around 4 years old.
"He was a tiny tiny thing," Encarnacion says. "I can't believe he is so big. He still remembers me and calls me mommy. It is so nice his job didn't go to his head."
In the early 1970s she moved to St. Croix because her husband landed a job at Hess Oil refinery, now called Hovensa. During those years she was a foster mother to 60 children and worked at Head Start.
After life slowed down for her, she started to make the dolls for her grandchildren and to give as gifts.
Encarnacion came up with the design for the 10-inch dolls herself and doesn't use a pattern. She uses black cotton for the bodies, which she stuffs with fiberfill from pillows. She sews little eyes and open mouths with tiny teeth. The lady dolls have white eyelet pantaloons and slips with lace trim. The ruffled dresses are colorful, cotton madras or solid white. Each doll is unique and no two are alike, on some dolls the sleeves, necklines and skirts are edged with lace or braid. The dolls have little head-wraps, so there is no need for hair. She has recently started to make men dolls that she clothes in all white.
She can make three dolls a day and she is always trying to perfect them.
"Each one I make I try to make a little better," she says. "Next I want to make bigger dolls."
Her son told her about Cultural Creations of the Virgin Islands, a consignment store for local artwork and crafts located in Frederiksted, where she could possibly sell the dolls.
Millie Calvin, proprietor of the store, fell in love with the dolls and she began to sell them there.
"With cultural dolls, people can acknowledge our culture and history," Calvin says. "Juanita definitely keeps culture alive with her dolls. I hope some young people will learn from the talent she has and keep making the dolls."
The dolls may be purchased at Cultural Creations at 66 King Street, open Monday through Saturday from 10 a.m. to 6 p.m. and Sundays from 11a.m. to 5 p.m.